When I first met Gerry Monaghan, it was early morning and I was making my way through the Commons to go to work. He was in the middle of the streatery/ restaurant row doodling what looked like a giant sun with a smiling face. I couldn't quite make it out when I passed by, but the art wasn't what seized my attention and the attention of the other passersby who stopped, paused and observed what Gerry was doing. What seized our attention was that Gerry was drawing on the road with a stick.
With an old dowel rod, a dollar-store chalk extender and some duct tape, Gerry had made himself a five foot pencil with which he effortlessly marked up the street. Standing perfectly still in the middle of the road later to be crowded by pedestrians, he glided the chalk across the ground like a child drawing circles in dirt. 
"Why would you make it here," I asked.
"It's the perfect place," he stopped and rested his fist on his hip to look at me. "With all of the people sitting outside, it'll be nice for them to have something to look at." 
Standing in front of me, he was the spitting image of Matisse in the later years of his life, with the addition of a lure hat. I never knew Matisse, but I also imagine that Gerry had a friendlier disposition. We waved goodbye and I headed to work like everyone else, but I knew I would be back to see what he'd drawn. And I knew I would have to speak to him again. 
Gerry's been drawing since he was young, he told me. After he left school he went on to become a graphic designer creating what he calls "disposable art." He worked in publishing and eventually worked up to a position where he was able to design the packaging for Campbell's soup, but looking back, he says the work lacked the thing he works to instill in his art today. 
"I spent my whole life doing that kind of commercial art, which to me is disposable art," said Gerry. "It was wonderful and at the same time, I would make something and they would go and print four million of them, but those four million pieces are all in the trash now. To make commercial art is inherently to make disposable art."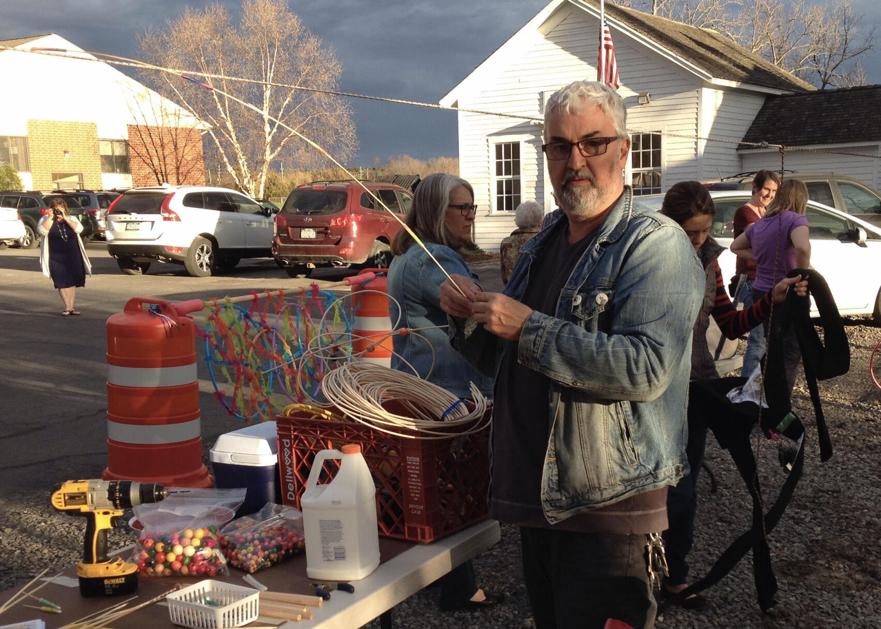 Now he says his passion is for creating ancestral art out of archival materials; and art that has a personal history. The materials he uses, which he defines as archival, are easily sourced, cheap and everyday. In the past, the Ithaca Times highlighted his work with toothpick weaving, which had gained him some notoriety. Out of everyday materials, he creates tabletop sculptures, figures that dance when the wind blows and person-sized dreamcatchers. 
"We're actively being ancestors. With the help of computer technology and the materials that we have, we can actively create new artifacts, new heirlooms, like our ancestors gave to us...There's nothing more archival than plastic," he said. 
His work, which he calls the Ancestry Project, looks at time differently than we most often do. For him it's something far-off,  that we cannot imagine, but individually possess the power to influence and communicate with. While western thought often sees time as a linear construction that human beings are moving through its limits are often based on what we foresee we might see— life within a generation or two. However, when Gerry talks about creating art, he often describes his work as meeting anthropologists hundreds of years in the future, and he asks himself 'what will they learn from the piece when they see it?'
"One of my focuses now is on rendering permanence and creating artifacts that speak to personal history...With my sculptures, I work on them in a way that they really are bonded, albeit with Elmer's glue and acrylic paint, they are built to last. Even though everyone says they look so delicate, they're actually pretty sturdy, unless you sit on them."
While the answer won't be supplied today, what he can focus on is making lasting durable work, which is what he does. But chalkwork isn't exactly durable. For Gerry, the work he does with chalk is like a hobby— if you can call an artist producing side-art a hobbyist.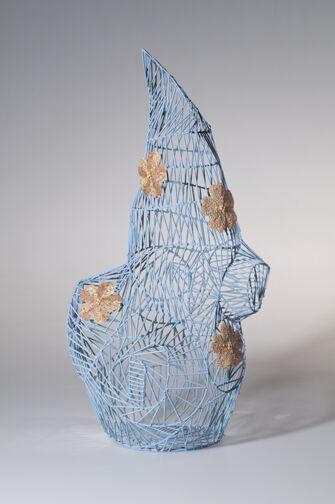 He got the idea to do the art work one day in March when he looked out the window of his home and saw the street covered in drawings produced by neighborhood youths; and he wanted in. 
That's also how he conceived the idea for his five foot pencil, inspired by Matisse. Chalkwork, for the most part, is a young person's game, but the pencil allows him to stand up and participate. 
"When working with adults, they bring a lot more of their own intent, and kids are much more open books. They just want to learn and experience. They will do things that I've never even thought of doing with my materials and my processes… What I'm more interested in is making marks on paper, and eventually all the marks will add up. There's no pressure to draw, we're just making marks… I tend to think I get a lot back from kids [in that way]."
For Gerry, who says he works a lot better when collaborating with other artists, the pandemic has been isolating, in many ways, but it's also inspired him in others. This summer he's been working with Ithaca Children's Garden and with various others in parks, sharing his artHis drive to collaborate with the young artists led him to using the chalk that had been tucked in corners around his house after his kids grew up, which led to our chance meeting on Aurora St.. 
The day I met Gerry it rained and his artwork was washed away, quickly, but it wasn't his first chalkwork and it wouldn't be his last. He'd been leaving work everywhere: one long doodle along the trails at Stewart Park, flowerscapes in Press Bay, cartoon faces in parks and poetry along not so busy streets— those are his— or at the least, likely have been since the start of the pandemic. And when the rain comes, as it inevitably will, we're only reminded of how much can be accomplished with what time has given us.