ITHACA, NY -- The American artist Philip Guston (1913-1980) remains prescient in many ways — not least of all as a model for some of the promises and perils of engaging sociopolitical concerns in contemporary painting. A lifelong leftist and a Social Realist during the Great Depression, Guston became known, early post-war, as a painter of ethereal abstractions. Caught up in the struggles of the '60s, he had second thoughts. "What kind of man am I," he later reflected, "sitting at home, reading magazines, going into a frustrated fury about everything ― and then going into my studio to adjust a red to a blue?"
It's easy to picture local painter Suzanne Onodera (1964-) facing a similar dilemma. A native Californian, active in Ithaca for a decade, Onodera is known for her lush abstract landscape oils ― about as far from social "relevance" as one might imagine. But the elegance of her familiar style belies a long-time involvement in punk and activist subcultures. With the rise in anti-Asian bigotry in the era of Trump and COVID-19, it's unsurprising to see her work take a tentative turn toward the worldly. 
Her July show at CAP ArtSpace remains up through August 1. "After the War: Paintings by Suzanne Onodera" features watercolors and altered photographs addressing Japanese-American wartime internment through her family history. Most of the work here has been completed since the beginning of the pandemic. The series is ongoing and one hopes to see her develop it further. 
A section of the artist's website (sonodera.com) contains carefully researched annotations for several of the pieces here as well as additional materials. This is an intelligent use of the internet as gallery resource: more so than any ersatz "virtual exhibition." We learn of her family history ― her mother's side in California, father's in Hawaii ― and their entanglements with war, migration and incarceration.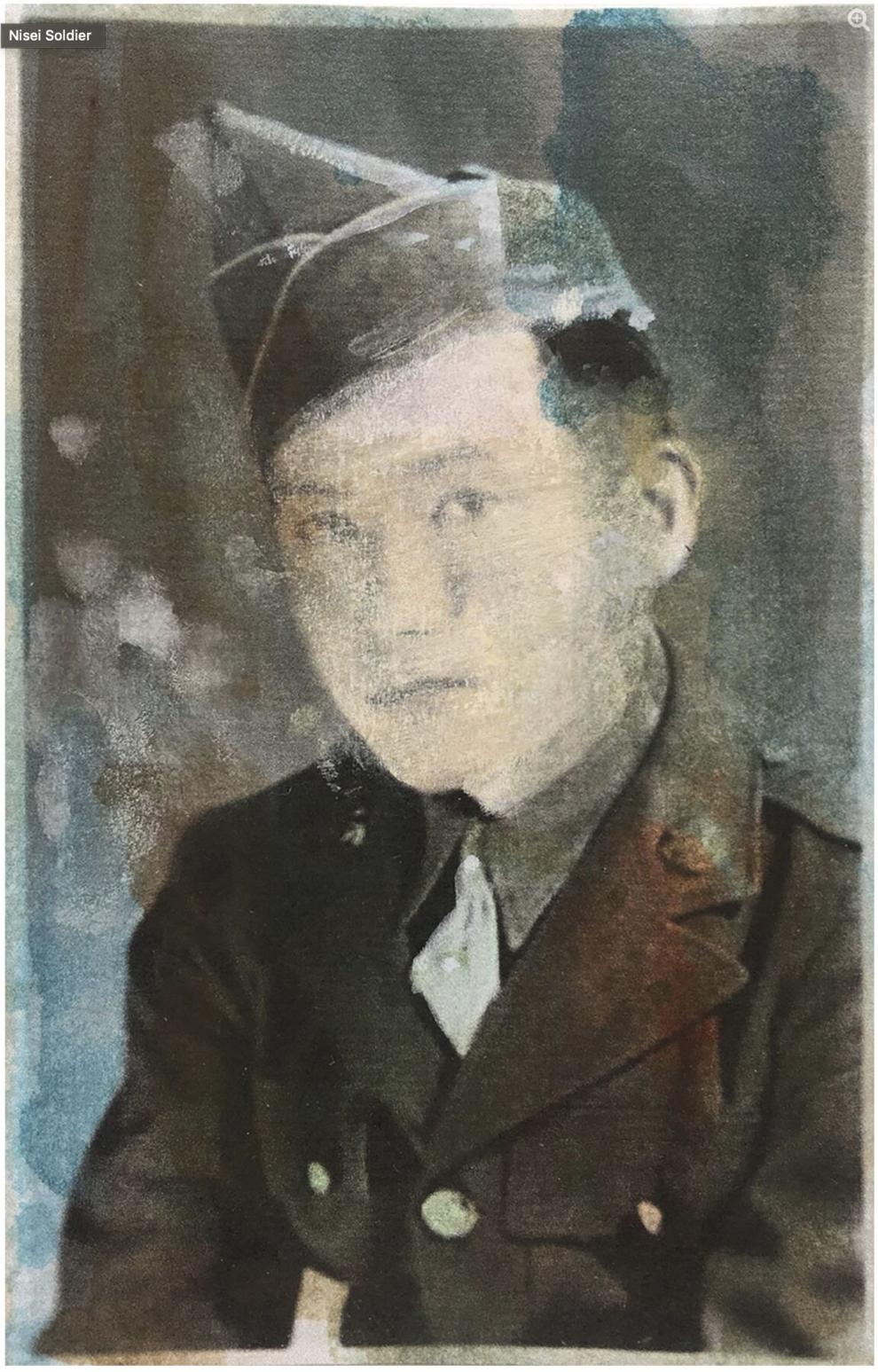 Onodera is an able watercolorist, transmuting her virtuosic oil brushwork convincingly enough into a quicker, less layered method. Her large watercolors here are fluent, alternating between tightly rendered images of buildings and people and freer passages representing foliage and water. The paint is thin, mostly monochrome with an accent color playing off the dominant hue. You can sense that she is holding back ― perhaps in imitation of her photographic references, perhaps out of solemnity.  
Absent figures, the deceptive pastorals "Orange Groves, 1940" and "Celery Fields, Decatur, MI 1945" ― the former a lovely evocation of Los Angeles ― mark a family history of forced displacement, while "Camp, Rohwer, AK" shows an aerial view of the grim prison that housed the artist's maternal family. "Baby," perhaps Onodera's most memorable figure composition, shows her mother as an infant, being held by the artist's grandfather. Other watercolors here reveal Hawaiian idylls ― seemingly a world away. 
It's difficult to make sense of what the artist is trying to do — a testament to both the personal novelty of her approach and the way painting-for-painting's-sake and political engagement have gone separate ways in contemporary art. In Guston's damning self-image, the "pure" painter retreats from the pressing concerns of his day to explore a hermetic space of shapes and colors. But painting retains its own intrinsic pull ― as it always did for Guston ― and most "post-medium" art-as-message art seems unlikely to outlast its topical concerns. 
That Onodera is trying to reconcile the two streams is either brave or foolhardy. The significance and limitations of her project, as seen so far, come into greater relief when viewed alongside two series by fellow Ithaca painter Terry Plater. Plater, in recent work, uses vintage family photographs and observed and imagined upstate New York landscapes to reflect upon African-American legacies. A two-part exhibit, "Harriet's Legacy," is on view, through August 7, at the Schweinfurth Art Center and the Cayuga Museum of History and Art: both in nearby Auburn, NY.
"Legacy" is one of the most moving local artist solo shows in some time. I hope to have more to say about it next week. Here it's worth noting Plater's fuller exploration of both themes: landscapes of beauty and veiled trauma on one hand; family remembrance on the other. The former, in watercolor, and the latter, in oil, achieve a parity and depth of painterly imagination that elude Onodera here. 
Onodera will be giving a lecture, "Silent Truths: Japanese Internment, Generational Citizenship, and American Silence" at CAP on Friday, July 30 from 6:30 to 7:30 p.m. CAP Artspace is located at 110 N Tioga St. and is open Wednesday-Satuday, 10 a.m. - 5 p.m.