The Community Arts Partnership's Art Trail is back this month, with 35 open studios dotted throughout Tompkins County. The trail is in its 23rd year of inviting people into artists' homes or studios to see their tools, their work and how the magic is made.
The Art Trail has continued to evolve with the ever changing landscape of the pandemic, Robin Schwartz, executive director of the Community Arts Partnership, said.
"Before the pandemic, every [studio] in the brochure was open. That's all it was — open studios, period," she said. "Last year it became not only more flexible, but we added virtual events."
In 2020, Schwartz estimates about 20 studios of artists who were comfortable were open, plus they had events on Zoom — studios were open during the day, and virtual events were those same nights. However this year there will be less overlap, with virtual events taking place on Thursdays and Fridays, and the studios open on Saturdays and Sundays.
"All arts organizations have learned that virtual events bring in a lot more people and people can attend who are not close by," Schwartz said. "We kind of like that."
Last year the artists who weren't open gave video tours of their studios, but this year those will be on their artist page on the Art Trail website (arttrail.com) and the virtual events will be workshops ranging from using social media to recovering your creative spirit.
To further increase flexibility for artists, and maintain safety for artists and visitors, artists can choose whether or not to be open on a certain day. Schwartz said this is so that if an artist starts feeling unwell and has a reason to believe they may have been exposed to COVID-19, they're able to prevent visitors from coming. Schwartz encourages people to check the artist's page on the website right before leaving your house.
One of the things Schwartz likes about this event is that it's ideal for other artists and art lovers to meet with these local artists.
"This is unique because you're not just seeing their art hung in their galleries, you're seeing their studios or their homes," she said. "You're not seeing only their work but the tools of their trade. You get to have great conversations with them and with the other visitors there. I always think I'm going to go to 10 studios in one day and I end up at three because I had great conversations that took a long time."
The studios are spread out all throughout Tompkins County, from Trumansburg to Dryden and everywhere in between. Part of the reason it's in October is because the drive is considered part of the experience, Schwartz said.
"It's beautiful here in this county," she said. "If you want to visit someone in Lodi and someone in Spencer, it's an hour-long drive […] I hope it's a beautiful fall foliage weekend and that the drive is beautiful."
It's also an opportunity to show Tompkins County off to some non-locals, as Schwartz said people come from Rochester, Syracuse, Binghamton and northern Pennsylvania to participate in the Art Trail.
Sue Brightly - Painter
Sue Brightly is one of the artists participating this year and said gaining exposure to people from outside of Ithaca or Tompkins County is a highlight.
"It's great because it's exposure and people come from as far as Rochester and Syracuse and they actually buy art, which is exciting," Brightly said. "But being able to share your art with people and build community, I think that's what's really appealing to me. Getting the chance to talk about what you do, getting to chat and meet other artists and people, it's a nice way to build community and get your art seen."
Brightly, a painter, has been participating in the Art Trail for four years, though notes "I don't know if last year really counts." She went into graphic design and didn't paint for years, but said in her 50s she really started getting back into it and finding her voice.
"Ithaca is such an art-friendly community, and the Community Arts Partnership really does a great job of outreach and supporting artists in this community," Brightly said. "I felt like I could reach out and try some things […] and [Schwartz] is so instrumental in reaching out to people and getting them involved."
Now working at Cornell University doing website work and graphic design, Brightly currently just paints on weekends.
"There's just never enough time. I'm looking forward to retiring someday," she laughed.
On the Art Trail, Brightly is effortlessly combining her inspiration and her work by setting up her trail "al fresco."
"Because I just paint up in the spare bedroom, I don't really have a proper studio," she said. Brightly used to showcase her work at a bed & breakfast in Trumansburg, but when they weren't available this year, she decided to create a trail through the woods of her front yard.
"Art will be hanging on trees with neat little places to sit," she said. "I'm going to be showing everything outdoors."
She said this works perfectly, as much of her inspiration for her paintings comes from nature.
"I live very closely with nature here," she said of her home between Ithaca and Trumansburg. "The trees and forest critters, they all seem to work their way into what I paint."
One of her paintings that she made to channel her frustration during 2020 was of a cute little mouse, donning a blue surgical mask and holding up a leaf, as if at a protest.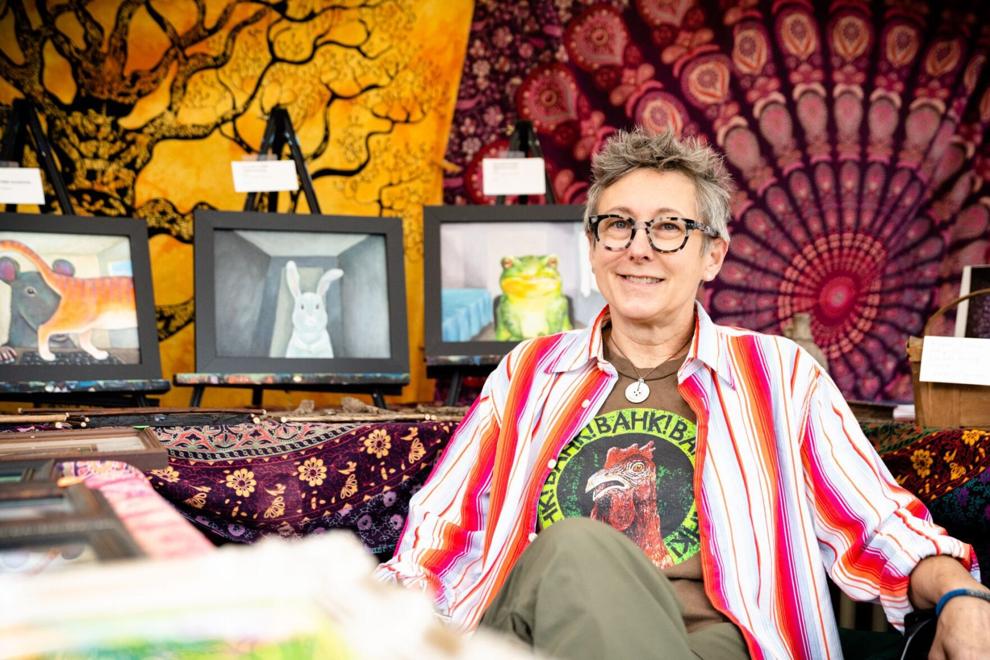 "It's a positive way with dealing with negative or tricky things," she said.
And she looks forward to showing her work to others.
"The Art Trail is a great opportunity for people who are very full-time artists and those of us who create art but don't have the means to spend all the time trying to get into galleries and do all that marketing type stuff," Brightly said. "It's a great opportunity on a smaller scale to get the same kind of exposure."
Kari Zelson Robertson - Ceramics
Kari Zelson Robertson, a ceramicist in her fourth year on the Art Trail, agrees.
"I knew, before I even moved here, four years ago that I wanted to be on the trail, that it would be part of my business and a way of meeting people in the community," Robertson said. "I have enjoyed so many things about being a part of the trail in terms of both business and lifestyle. I've met great people who have become friends and customers."
She mentioned specifically that she enjoys getting to meet people from Binghamton, Rochester and Syracuse who come to wander the trail, as well as walk-ins who see the signs at the intersection near her studio. She said it's also provided her with a way to meet members of the community she might not otherwise have.
"One year, I had a bunch of high school students who had been assigned to go on the Art Trail as homework, which was really great," she said. "I've been the subject of several documentaries/new stories by students at nearby Ithaca College who are looking for low hanging fruit for their projects, also very interesting and fun."
Students aren't anything new to Roberston, who was formerly an art educator. She said the part of the Art Trail that allows her to share ideas about her process and answer visitors' questions allows her to continue that education.
"For me, the open studio weekends are educational and social experiences," she said. "I hope that people leave with a better idea about what it takes to make work like mine, that they enjoy their visit, and will leave my place with some new and positive thoughts that might apply somehow in their own lives. And I hope that people 'take away' some of my work, of course, which is what allows me to make more."
Her work ranges from more architectural minimalistic designs to designs inspired by organic imagery such as fossils, water, frogs and fish. She also said she finds the transformational ability of clay to be inspiring in and of itself.
"A ceramic artist develops and refines creative ideas throughout 'the thousand stages' of clay, from wet and plastic to nearly glass-like," she said. "I love that it's something that I can make which can be used by other people, so it becomes social in that way. The work is always about problem solving, and it engages my brain and hands as such. I get an idea. How will I build it? How can it be used? Who will buy it? These are just the start of so many questions to be asked and answered."
All of Robertson's current ceramic work is functional, designed to be used as charcuterie boards, cups, bowls and planters.
Torie Tiffany – Digital Collage
Torie Tiffany has been on the Art Trail for about a decade, the longest of our three spotlighted artists.
"It's a wonderful experience to be able to invite people into my studio," she said. "The energy they bring adds to my creativity."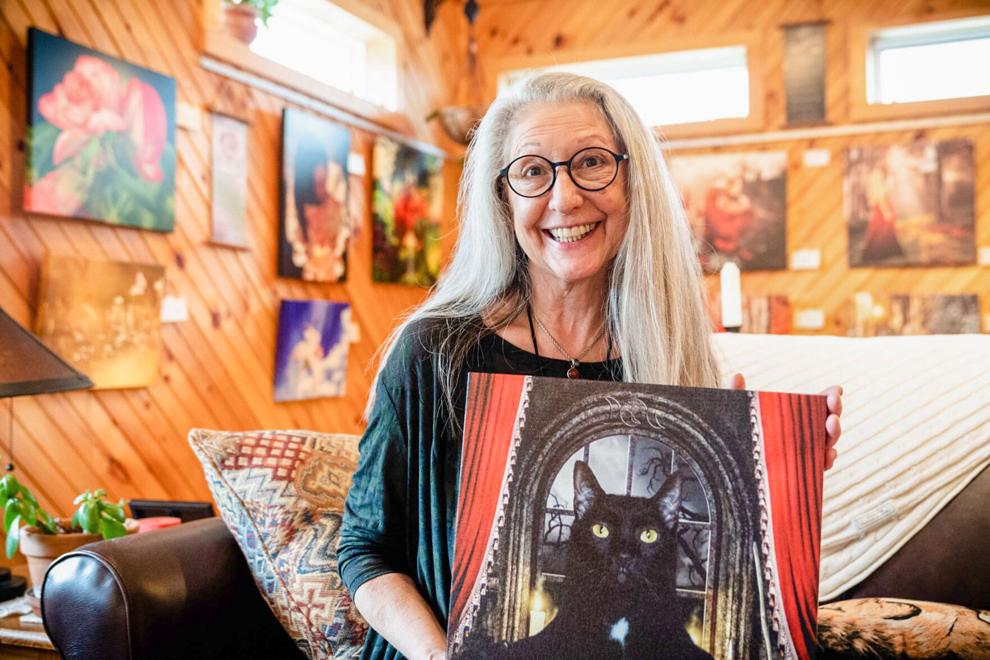 Tiffany does digital collage, taking small photos and putting them together, writing a vignette to go with each one.
"It's a little extension of my expression, so I've had people who come in and like a certain piece, and some who are really taken by the writing," she said.
For instance, one of her pieces shows seven cats sitting around a card table. One's wearing sunglasses, one's wearing a bejeweled collar and holding a flute of champagne, another has a bottle of beer in one paw and a cigar in the other. The group is clearly engaged in a rowdy game of poker, as the black cat at the front of the table flashes an ace and sits with a sizable group of poker chips in front of him.
Tiffany's studio is an extension of her home, but has a private entrance.
"The front of the studio is facing a pond, so it's a lovely landscape and nice to just sit and look at the nature," she said. "It's fun to stroll around and see the critters and that sort of thing."
She said her studio is jam-packed with her work, grouped into six different series with their own flavor.
"Some serene things, some spiritual, some fun," she said. "A series I've been focused on lately has been the Copycat Series, which is cats doing human things. I started that series when I was feeling really blue and needed something to make me smile."
The poker cats will definitely make you smile.
Tiffany said when she was young she "learned it was easy to take scissors to photographs." She'd rearrange and merge things together, and then she got older and discovered Photoshop, where she realized there are even more options. And all that cutting up photos as a kid led her to the digital collage artwork she creates now.
"Creativity is such a part of my life," she said. "It's something I enjoy as relaxation, so I spend an awful lot of time doing it."