ITHACA, NY -- For local art and culture enthusiasts, the shuttering of Cornell and Ithaca College to the general public over this past year has been a loss. Although often neglected or only narrowly publicized, an immense variety of concerts, performances, public lectures and art exhibitions — often free — enhance the local cultural life immeasurably. It hurts to see them gone (or gone virtual). 
Over the past few years, Mara Baldwin, director of IC's Handwerker Gallery, has moonlighted with Neighbors, an independent gallery run out of her home. Now enjoying enlarged digs on West Hill, the "alternative space" continues to host quirky and unusual offerings despite COVID-19. Baldwin makes good use of her connections to both academia and independent creators. I haven't been able to share all her enthusiasms, but the space is a genuine alternative to the familiar spins of the more mainstream local venues. 
Currently (and through May 2), Neighbors is showing "No More Chicken Nuggets, Mommy," a show of ceramic sculptures by 2021 Cornell MFA candidate Grace Sachi Troxell. It's the only student show that most Ithacans are likely to see for a while. Fortunately, it's a strong one. 
Neighbors is held in a converted garage and the rough (though not too rough) space suits Troxell's work well. Drawing off of the perennially influential sixties movements of Post-Minimalism and eccentric abstraction, the young artist is slip casting homegrown vegetables and constructing freely built clay forms around steel armatures. Combining small casts in scattered groupings on the floor with larger freestanding mixed-media pieces, "No More" is a warm, inviting show. 
The exhibition title announces a moral spirit that suffuses — but doesn't overwhelm — this playful, sensuous work. Taken from a childhood vegetarian protest, it's an apt nomination: both comically surreal and deeply earnest.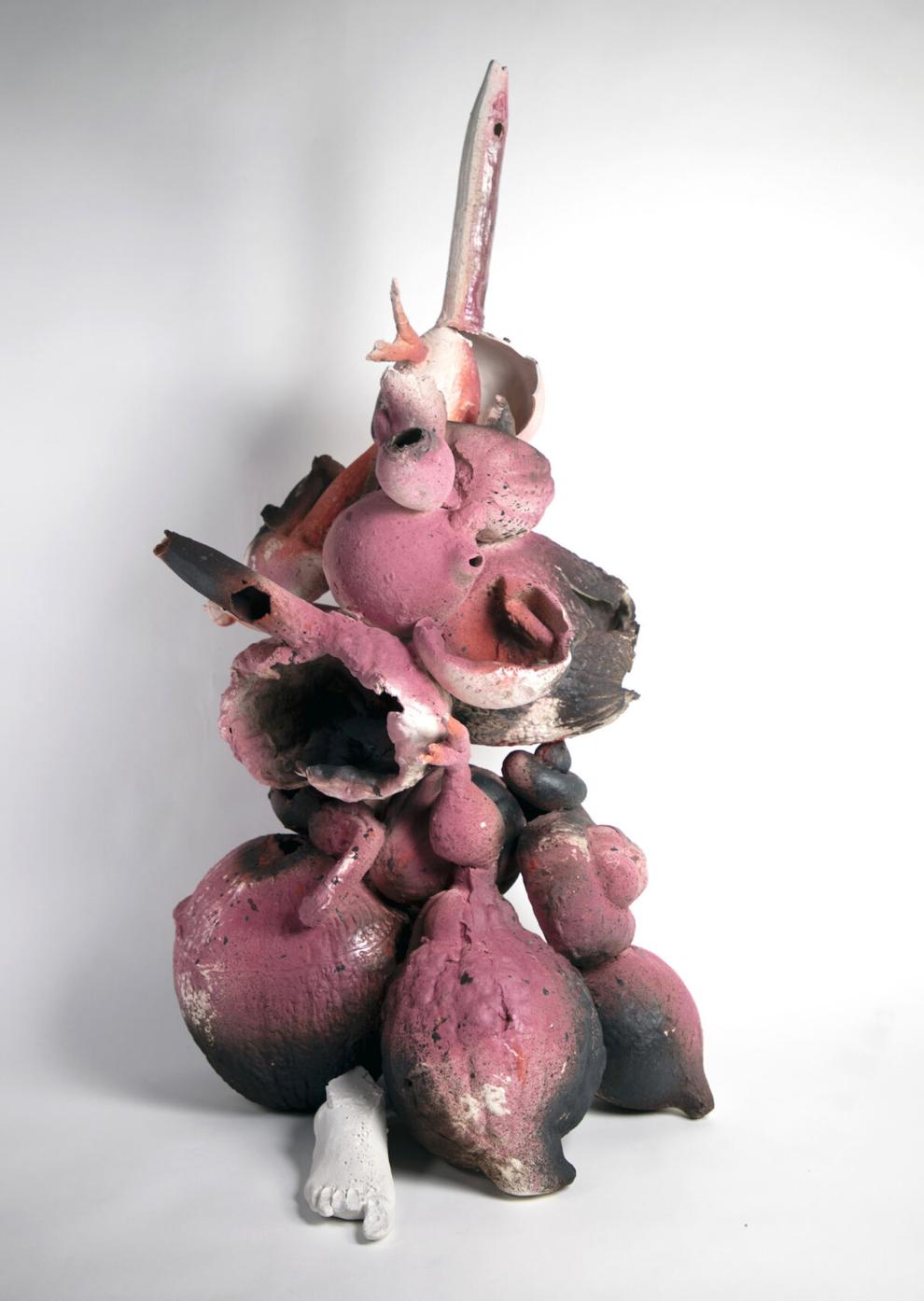 Two tall pieces provide an anchor for the show. "No More Chicken Nuggets, Mommy" and "Venus Ovulating" were baked in a wood-fired kiln built recently by the artist. Composed of clay worked over steel armatures and chicken wire, they have a gritty, industrial look.
Standing like a dark sentinel in the gallery's back left corner, the show's titular piece is an outlier in more than one sense. While most of the works here follow the tendency in contemporary art to take sculpture "off the pedestal," this one incorporates the "pedestal" into the work. Recalling modernist sculptors like Brancusi and (especially) the earlier Giacometti, the piece suggests a rough still life on a sleek table. 
"Venus" is the only piece here not to make use of slip cast vegetation. A black lumpy form, vaguely anthropomorphic, is crowned with loops of thick steel wire festooned with little lumps of white clay.
Fired in an electric kiln, "Regenerative Agriculture" is particularly rich. Composed of cast vegetables fused together and grainily colored in black and purplish and reddish pinks, the mid-size piece is a strange mutant, covered in distinctly sexual protrusions. A plaster cast human foot slips out from the bottom, highlighting a metaphoric conflation of the vegetal and anthropomorphic that is Troxell's abiding inspiration here. 
Several "vegetable conglomerations," collectively entitled "Clay Babies," comprise the rest of the show. They're part scatter art, part harvest. Mostly raw toned with splotches and dustings of pigmented color, these gourd and root vegetable medleys are compellingly odd. 
In her artist's statement, Troxell cites the contemporary aesthetic philosopher Yuriko Saito as an inspiration for her mission to reclaim the beauty of "misshapen or ugly vegetables." As she writes, "By bringing slipcast vegetables into sculptures, I am seeking to harness the aspects of vegetables that are typically discouraged: their misshapenness, which is also their personality, and their acts of seemingly playful improvisation, which are also acts of creative survival."
While contemporary art — and art coming out of the MFA culture in particular — is filled with strident claims of political and other kinds of extra-artistic importance, it's rare to see work that fully lives what it promises. It surely helps that Troxell comes from an artistic family (her father, Robert Troxell, is a printmaker and sculptural ceramist) and that her pre-graduate school resume includes a diverse background in painting, textiles, ceramics and sculpture. 
"No More" is a richly encompassing show that ought to reward the sustained exploration of anybody with an interest in contemporary sculpture.