ITHACA, NY -- Active since 1999 as an independent local studio and gallery, The Ink Shop Printmaking Center is known for building links between Ithaca's independent visual arts community and students and faculty at Cornell and Ithaca College. Many Shop members, current and past, have taught at the schools. 
"I See You (IC/CU) 2021," the Shop's latest annual student show, features a large number of printmaking and book art students from both schools. Ithaca College print and drawing instructors Pamela Drix, Patricia Hunsinger, and Paloma Barhaugh-Bordas are liaisons, as are Julianne Hunter and Elisabeth Meyer, both of Cornell. "I See You," which runs through July 30, is the Ink Shop's first new exhibit in their physical gallery since last summer. 
I had no previous familiarity with the work of any of these young artists. My awareness of undergraduate artwork at both schools has never been extensive and has dwindled, given the shuttering of both campuses to outsiders in the light of the coronavirus pandemic. It is hard to know what to make of student art in general: where they have come from and where they might be going. 
That said, most of the work here looks quite good. Overall, there appears to be a balance in emphasis between traditional drawing and printmaking skills and more contemporary and experimental approaches. "I See You" compares favorably to "Limerick Studio Printmakers," representing the Shop's recent exchange with an Irish print studio, which was on display through earlier this year. 
The current show would be a serviceable introduction to the primary technical means used by contemporary fine art printmakers. 
Intaglio, based on incising a metal plate, is a basic method. Julia Bertussi (IC) presents "Isabelle," a black and multicolor drypoint piece printed on paper and transparent plastic overlay. We see the head and shoulders of a girl with elaborately braided hair – the fuzzy lines and bright, layered color create an electric effect. Trading more on modest but engaging drawing abilities, are several black-and-white etchings from Cornell. Pieces such as Crystal Wu's science fiction "Topological Signals" and Tina Lee's "Untitled," an underwater scene, are characteristic in their engagement of fantasy.  
Relief printing, particularly in the form of woodcut and linoleum cut, is another foundational technique. It is somewhat underrepresented here. I was particularly struck by "Mountainsides," a linocut by Katie Tomasello (IC). With its glowing white lines piercing overlapped planes of saturated, aqueous colors, the piece is a striking abstract landscape.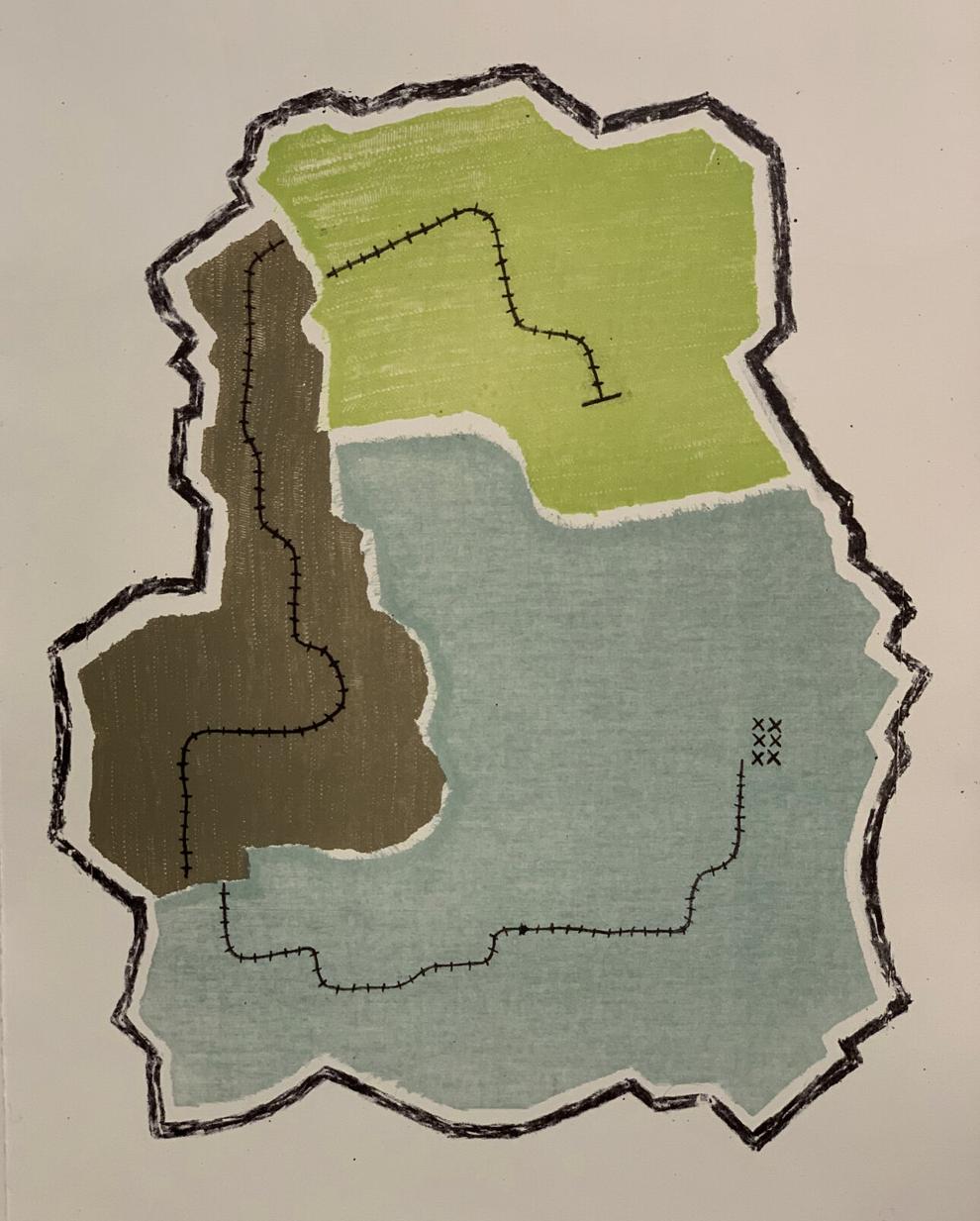 Lithography, printed from a flat surface and deploying the familiar resistance of oil and water, is another important tradition. Several Cornell lithographers here provide highlights.  
I was particularly struck by "Dancing in the Sunlight" by Wendolin Gonzalez. Showing a hand reaching down from above to grasp a floral cloth, the piece recalls the French Post-Impressionists Bonnard and Vuillard in its combination of calligraphic contour, disassociated pattern, and refined color. Yerkezhan Abuova's "Tea Ceremony," a portrait of a woman, provocatively juxtaposes realistic facial detail and collage-like silhouetted fabric-shapes. An untitled piece by Shanti Morrissey incorporates the silhouetted forms and textures of string, lace, flowers – and what appears to be a face mask – into a mesmerizing whole. 
An engagement with the worlds of graphic design, illustration, and typography is also a part of the Shop's lifeblood. A corner display of unframed screenprint political posters from Cornell balances the subtle and the strident. 
A number of artists are showing books and other constructed forms. The most elaborate and engaging of these is "Fishy Dream" by Peter Walz (IC), which adapts the Japanese tradition of gyotaku: handprinting from fish. Printed on mulberry paper over an elaborate diorama stage-set, the piece invites an engrossing reverie while inviting viewers to peek backstage. 
It is customary in highbrow criticism of the visual arts to ignore the social life of the culture. I can't help pointing out how odd it is — after over a year of being unable to attend on-campus events in the flesh — to have a student show that opens to the public after most of the students have left.
It is heartening to see that the Ink Shop is holding on to its ground. One looks forward to seeing where they are able to go now that physical exhibitions are becoming the norm again.