ITHACA, NY -- Between the solo show and the exhibition with numerous artists, the two-person outing has a certain place in the economy of galleries and museums. Ideally, the artists both complement and contrast with one another.
Local duo shows that do this effectively are rare. While the community's academic venues traffic in affected and pretentious curatorial conceits, Ithaca's independent galleries arrange two-person exhibitions on the basis of programming convenience or the social affiliation of the artists.
"Manifestations," currently (and through July 1) at The Gallery at South Hill, is sadly no exception. The show features pastel painter Diane Newton and photographer Sheryl Sinkow, both familiar local figures.
Newton has long been one of Ithaca's most distinctive and realized visual artists. A tough, unsentimental realist in the tradition of cityscape painters like Edward Hopper and Rackstraw Downes, she deploys what might seem a hobbyist's medium with an uncommon acuity and depth of vision. Working over black toned paper and using her own photographs as reference, she builds up densely wrought scenes of urban and roadside landscapes that dignify what might very well be viewed as ugly and insignificant settings.
Her work in "Manifestations," filling up one side of the gallery, is thoughtfully arranged. Larger pieces in her signature realist mode are interspersed with smaller, more experimental pieces recalling her modernist roots, as well as photographs offering hints of her working process.
Dated 1984, "Chicago Friends" is the first of four large anchoring pieces here. Poised between abstractionist origins and the patient exploration of the commonplace that is her main achievement today, the interior scene is also fully compelling in its own right. A woman in a long coat and bright scarf and a dandyish-looking man — or masculine looking figure — lounge in a space composed of broad planes of color.
"Ludlow Stop" and "Behind Mark's" (one wishes for dates, but both pieces were new to me) are both quintessential Newtons. The former piece captures a gorgeous sunrise or sunset illuminating the sky above the nearly empty parking lot of a banal highway rest stop. Like Hopper — and unlike the by now stale ironizing of the Pop artists — she incorporates commercial logos as part of an honest but generous reflection on contemporary life.
"Mark's," the only upright piece of the four, draws from the artist's hometown of Omaha, Nebraska. It shows an insignificant street, in deep perspective as if from the driver's seat. It's a bleak setting, everything white and gray — hazy shades of snowless winter. Yet the artist brings it to life with her attention to subtle shifts of tone and color and her subtle yet vivacious markmaking.
Portraying the lush greenery of the Czech embassy in Washington, DC, "Embassy Grounds" stands as a foil to Newton's more characteristic work.
Other recent pieces here explore abstract drawing and photography. Of particular note are several quick looking pieces done earlier this year as part of a Zoom class offered by Boston artist Robert Siegelman, with whom the artist has previously worked in person.
Sinkow, known for her commercial and travel photography, is a difficult artist to pin down in a gallery setting. Her vocation isn't one that encourages the sort of focused personal vision that critics like myself wish to see.
For her latest project, begun only this past January, Sinkow has revisited her bank of digital images, recycling and juxtaposing them as photomontage. This is a commonplace of local art, particularly among commercial photographers looking for a more "artistic" expression in their gallery-oriented work. More idiosyncratically, Sinkow is collaborating with her astrologer Linda Ruth for her interpretations — attempting to give weight to these sometimes-unresolved images. Each picture here (see the information sheet available in the gallery) is accompanied by titles and captions suggesting a "Sabian" Zodiacal reading.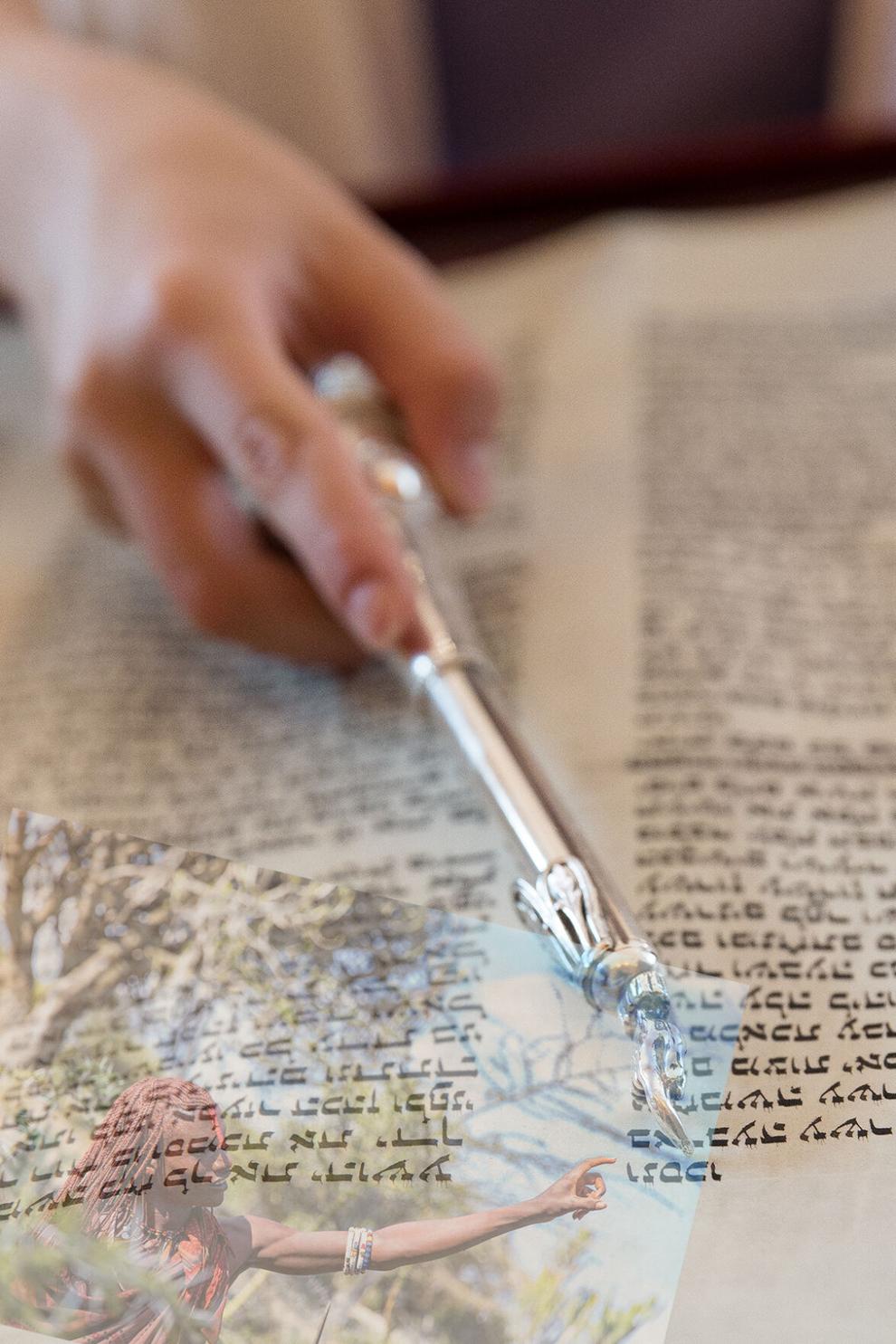 I can't say that I understand any of this. As an impetus to artistic creativity, the potential is surely there — let a hundred flowers bloom and all that.
The montage pieces here — many hung in pairs — illustrate the impressive range of the artist's travels and interests. Conspicuously multicultural subjects include African tribespeople and the Dalai Lama, as well as allusions to the artist's own Jewish heritage. Other images explore urban life as well as seemingly untrammeled nature.
"Venus: 3º Sagittarius," Sinkow's only wholly new image here, captures her "metaphysical" themes with uncommon compulsion. Against a deep red cloth rest two pipes bearing bearded visages. Wisps of smoke have been digitally overlain. By the artist's reading, "Two men, lounging in the comfort of an old drawing room, and with strong pipes, are playing a game of chess."
According to the Sinkow, this is only the beginning of what might become a lifelong project. It might have been wiser to show other work instead of or in addition to what is on display here.
It is more natural and constructive to think of "Manifestations" as two separate, unrelated shows that happen to be sharing a room. Both are worth seeing but the edge goes to Newton's masterful ventures in re-seeing the ordinary.