February marks Part II of the State of the Art Gallery's Annual Members' Show, and this selection of artists, which features the fourteen remaining cooperative members not showcased in Part I, proves yet again how eclectic and colorful both visual art and the artists in our community can be. From pastels to oil and acrylic paint to photography, graphite and mixed media sculpture, Part II exhibits fourteen distinct viewpoints, each with their own media and unique touch. Some of the works are particularly playful, while others explore technique. All are truly inspiring.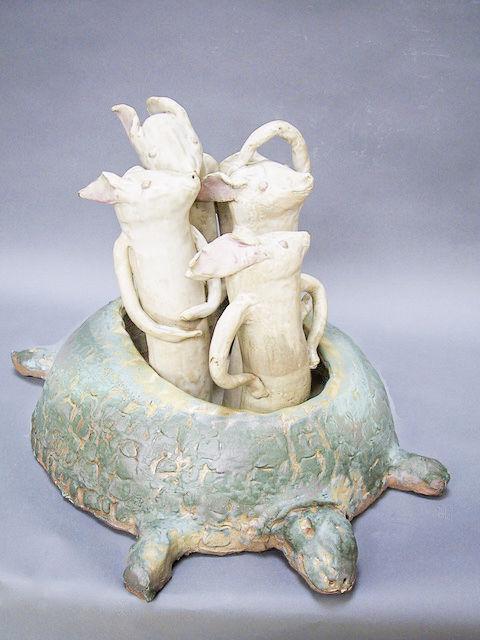 The show begins with long-time member MaryAnn Bowman's spirited and jovial work. Involving sculptures collectively created from any mixture of media from ceramic and wood to paint brush arms and draped fabric, each is creative and downright cheerful. O.K. Here We Go, for example, features a ceramic frog holding onto a long flower. It sits on a wooden car or cart, ready to explore.
Daniel McPheeter's works are similarly playful, but in their own way. Archival digital prints that combine figurative inspiration with repetitive kaleidoscopic forms, some of the pieces such as Starfight, focus on trees silhouetted against the night with a compilation of shapes around the scene bringing added intrigue. Stan Bowman too plays with digital prints, though in a more sculptural way. Working with colorful abstract prints, Bowman backed each with foam and cut them into pieces, repositioning them together in a more three-dimensional manner that makes them protrude from the wall and accentuates the swirling movement of each image, as if activating it further.
On the opposite wall are pastel and charcoal drawings by Margaret Reed, who provides her own perspective and intention behind her works. Inspired by saints and goddesses, her pieces deal largely with narrative and storytelling of female protagonists. Her color works burst with vibrant oranges and greens with woman in regal dress. A personal favorite, however, is Inanna! Queen of All the Lands!, a black-and-white charcoal drawing of the Sumerian goddess hanging upside down from a tree. Her body, apart from her feet and face, is colored in black with hairs covering her legs and internal organs on display in her stomach. Her expression is unwavering, unamused.
Erin Deneuville's Le Goûter is beautifully done: a charcoal drawing of a man and small child sitting at the end of a long table. The table is spread with bread and fruit and what looks to be an unwrapped bar of chocolate, appropriate considering that "le goûter" translates to "an afternoon snack." The boy has a small piece of chocolate in his hand, half-eaten, and is looking up at the man, who appears to be speaking.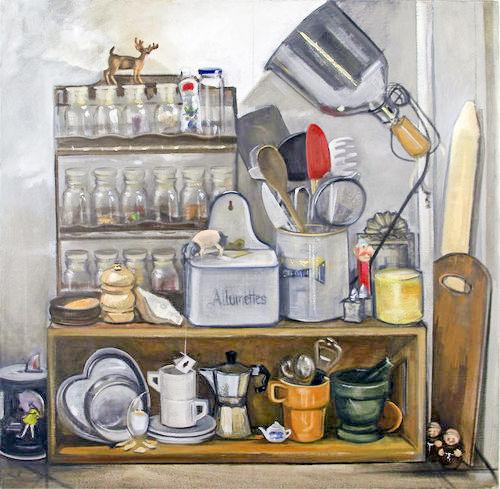 Frances Fawcett's abstract digital works are surprising, involving playful lines with each white space filled with a different color. With titles such as Ponytail and Surprise Party, your eyes search to make sense of the lines, unearthing the curves of a ponytail or  joyful shapes of streamers.
Meanwhile, Terry Plater has on display more traditional figurative oil paintings, each exploring body language. In one, three woman look toward a fourth who appears to pull away from them. Their bodies exhibits a combination of concern and tension, although their faces are not fully formed and instead only vaguely depicted.
Marian Van Soest exhibits textural acrylic works dealing with topography and color, while painter Janet Byer Sherman presents exploratory self-portraits. Susan C. Larkin's signature black-and-white photography stands out with its intense focus on nature's details, while David Watkins Jr. photographs the natural world as well, appreciating the curves between rocks and breathtakingly irregular symmetry of a gorge. Diane Newton's large pastel drawings of Scatterly Hill Road and Summertime/Nashville, respectively of a winding road and the intersection by a Piggly Wiggly supermarket, are incredibly executed and somehow comforting in their verisimilitude. All the while, Patty L. Porter displays a five-part Cayuga Winter series, depicting Cayuga Lake as it goes through snow and thaw and its eminent tranquility. Shirley Hogg, lastly, presents a surprisingly strongest visual transition between works. Graphite mouse studies are met with colorful watercolor that then leads to studies of plants in a beautiful manner. 
The show, which is sure to excite, is up until Feb. 25. •