ITHACA, NY -- Among the cognoscenti of contemporary fine art printmaking, Dan Welden is a legendary name. Active since the '70s, the Long Island-based artist is widely sought out for his technical expertise and commitment to innovation in an often traditionalist field. Inventor of the non-toxic Solarplate method — which allows the practitioner to develop a print using sunlight (or a UV lightbox) and water — Welden is also a master collaborator. As the founder and head of Hampton Editions, Ltd., he has worked with such famous art world figures as Elaine and Willem de Kooning, Dan Flavin and Eric Fischl. 
Welden is also a distinguished painter-printmaker in his own right. This month, Ithaca's Ink Shop Printmaking Center is showing "Dan Welden: Aesop's Fables (Color Sequel)," featuring work from a recent series of experimental intaglio prints. The show (which runs through Oct. 24) includes black-and-white pieces as well as unique hand-colored prints. They have an unusual origin story. 
Scavenging an abandoned art colony several years ago, Welden came upon a group of 50-year-old zinc etching plates that had been exposed to salt air and extremes of weather. Subject to corrosion and oxidation, the plates had been sandwiched together — creating ghostly twinned surfaces unsuitable for conventional printmaking but attractive to the intuitive, process-driven artist. Taking 11 plate pairs and reworking them with drypoint lines and spit bite etching, he has created a series he conceives of as a collaboration between himself and nature.
Welden is hardly a conceptually or narrative-driven artist: he prefers to work from imperatives that are intuitive and bodily rather than verbal. His allusion to the Greek slave storyteller — developed in the titles of his paired pieces — suggests duality and connection rather than the moralism common to so much contemporary art. 
An initial glancing around the gallery may suggest much of the same. Eventually, Welden's black-and-white prints capture our close attention with their evocative accumulations of detail: dark shadows, veils and smears of mid-tone, microscopic mottling, buzzing lines going this way and that. Most — like "Playful Grasshopper" and "Industrious Ant" or "Goat Plateau" and "Clever Fox" — are paired images hung side-by-side. Like framed specimens of winged insects, we see the symmetry in their shape and arrangement. But a sort of chaotic graphic weather prevents any two images from being the same — adding an energizing unpredictability.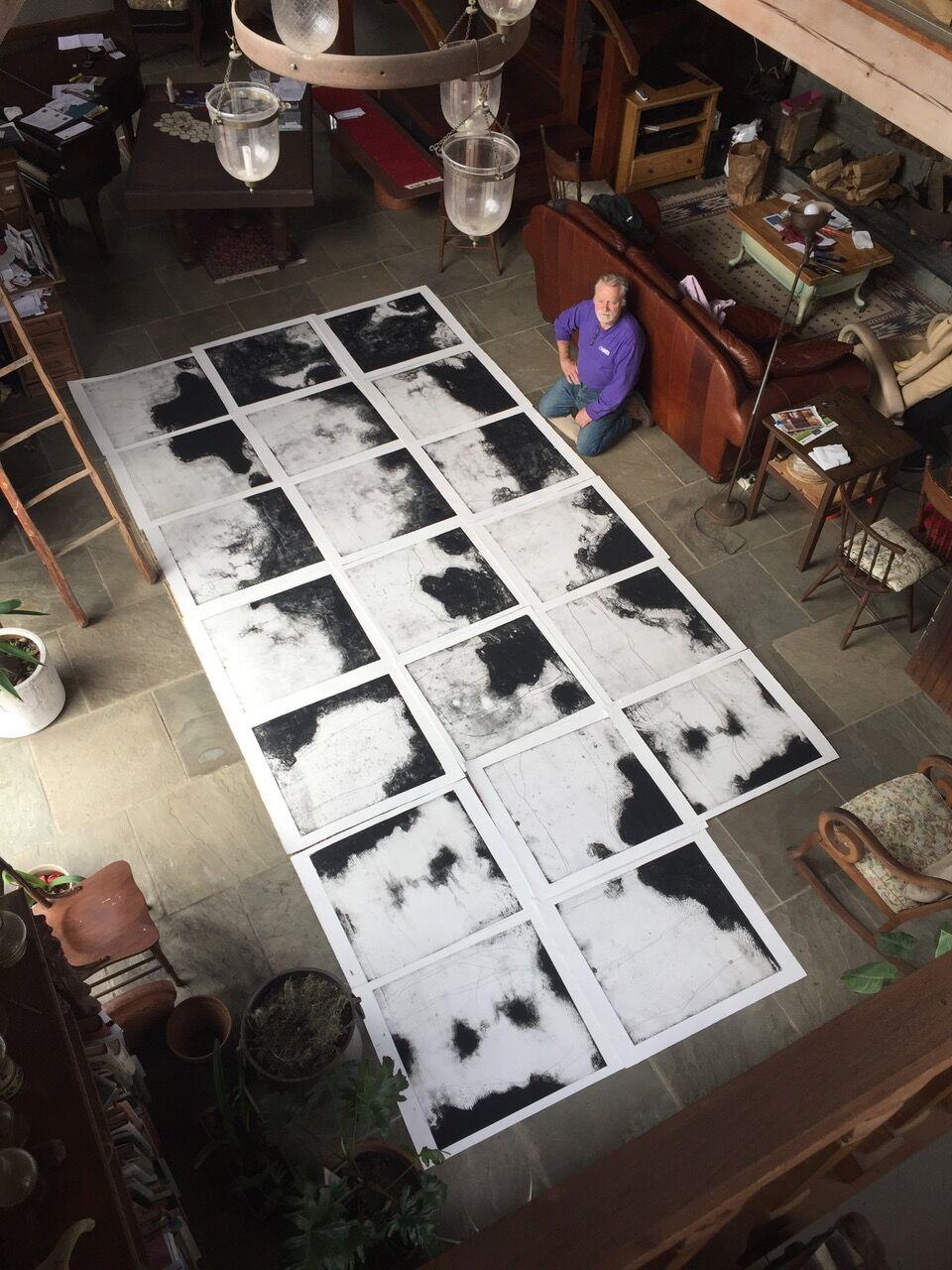 The black-and-white work is undeniably lovely and evocative; still, it's hard not to see the six colored prints here as the culmination of Welden's project. These unique, "hybrid" works incorporate such drawing and painting materials as crayon, acrylic, and watercolor — layered over the original prints in a manner that suggests a tension between simple hand-"coloring" and entirely new creation.  
A luminous green mass balances precariously against the blacks in "Humble Lion," accented with scrawls and smears of white, dark gray, and crimson. A foggier, densely worked-over green and white engulfs "Aesop's Birth," obscuring most of the original, printed areas. In contrast, the saturated red and thin beige vertical stripes that cross "Wolf Ears" leave much of the original black-and-white untouched. The hot red-orange patches scattered about "Watchful Frog" suggest smoldering lava while soft beige of "Braying Donkey" evoke a more placid earthscape. "Crane's Beak," perhaps the most lyrical color piece here, blends pale and yellowish greens for a more nuanced, atmospheric effect. 
This is the Ink Shop's first exhibit of non-local work since the beginning of the pandemic. The cooperative studio and gallery remains an anchor of Ithaca's art scene with its curatorial intelligence and its ongoing commitment to making the full diversity of contemporary print art accessible to a local audience. 
Welden is also the juror for the Shop's upcoming "21st Mini Print International Exhibit," which opens in November and runs through next January. The show, which typically includes tiny prints by a large number of contributors, is an Ink Shop staple. 
The artist is concurrently (from September to December) showing work from the "Aesop" series at the New Arts Program in Kutztown, Pennsylvania. 
Located on the second floor above The Community School of Music and Arts (330 East Martin Luther King Jr./State Street) The Ink Shop Printmaking Center is currently open by appointment only. Call (607) 277-3384 or email artists@ink-shop.org and enter from the back.