ITHACA, NY -- It's good to see solo shows at the State of the Art Gallery again. After seeing through a couple pandemic-inspired seasons of forgettable "virtual exhibitions" and seemingly endless group shows in search of a purpose, it is rewarding to view the recent work of a single artist in person and in some depth. 
Ethel Vrana is one of the grand old women and men of the well-established downtown cooperative. Her new show, "Emergence" (through Aug. 1), highlights the quirky, often highly-nuanced abstract oils for which she has become best known in recent years. Completed during the COVID-19 pandemic, it also incorporates playful divagations into imagery as well as a series of brand new print collages. 
This is one of the most scattered presentations of her new work that I have seen. But at least a few pieces here breathe genuine life into what some might consider the exhausted genre of abstraction. 
A pair of larger (36"x36") square canvases, "Everlasting Brightness #2" and "Deep Blue" are like day and night. As with many of Vrana's most memorable abstractions, she forms loose grids of squares. Both recall the idealized geometry of Mondrian and other past masters as well as the more informal topography of the city. 
"Brightness" is the more immediate of the two. Sonorous notes of color punctuate the pale sweet fogs of color polluting the surrounding whiteness. The piece is evocative and lovely but, to my mind, serves primarily as a foil for it's nocturnal cousin.   
Saturated blocks of color punctuate the muted, blackened expanse of "Deep Blue": red, blue, yellow, teal, white. Rods and horseshoes suggest objects or — even — personages, animate. Like Klee, an obvious lodestar for Vrana's best work, the piece combines formal rigor and human comedy. Both pieces, but especially the latter, should have been given greater pride of place here. 
"Stash," another 36-inch square canvas, is also a key painting here. Contoured in delicate black lines against a field of pale purple, is a surreal, semi-abstract conglomeration of lighting fixtures, lampshades, and lumps — strung together with black wire that leads the gaze along it's serpentine path. Once again, the piece reveals Vrana as an able student of classic modern art. 
A handful of pieces exhibit what might be considered a more contemporary sensibility in their sly merger of abstract shapes and passages with bits of more overt, often cartoonish imagery. Pieces such as "Still Life with Nest" and "Child's Play" are cute but not too cloying. 
"Olivia" makes an easy joke at the expense of abstract painting: seen from behind, a silhouetted gnome daubs child-like scrawls on an otherwise empty white field. The conceit is a well-worn one but Vrana pulls it off.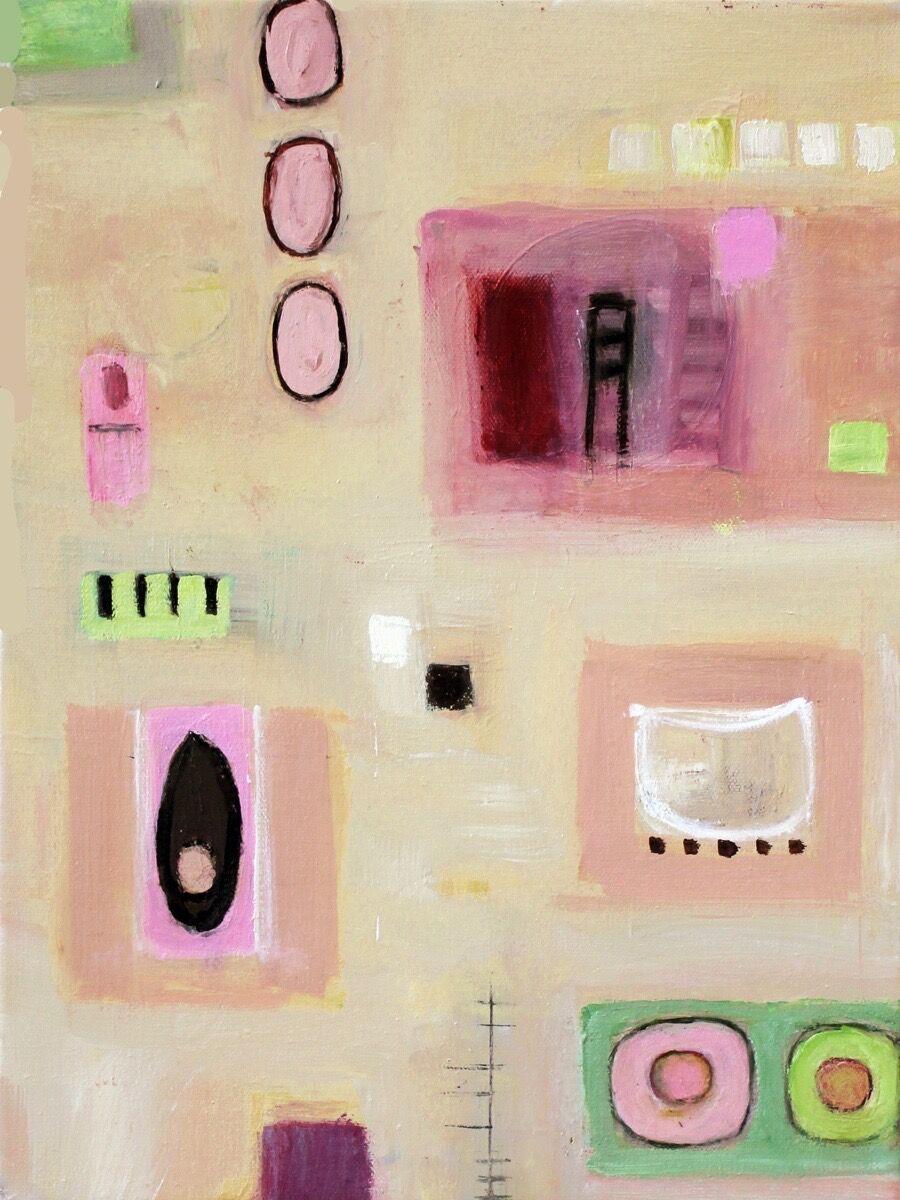 Other pieces here can only be described as kitsch — perhaps intentional, perhaps not. Rows of sundown colors stripe the large "Eventide," dappled with dark silhouette trees in a kind of stage-set effect. With it's looming red sun, wiry potted plant, and little abstract shapes, "Rising" is more bearable but suggests a hobbybook approach to "modern art." 
Vrana attended an artists' retreat this past month in the Hudson Valley: her first opportunity to work outside her studio since the beginning of the pandemic. There she learned a new technique to her gel plate printing process, which she has used here in three "Emergence" collages, paper on wood. Crisp contrasts of color and patterns — sometimes vaguely botanical or fungal — define these lively, inspirited pieces. 
Vrana's recent turn to abstraction still feels difficult to place. There's something very mainstream State of the Art about "going abstract," particularly at an advanced age. I sense that whatever is most distinctive and interesting about her current work is not being seen as well as it could be here.
The hanging of exhibitions at the SoAG is invariably professional and effective as a basic means of presenting the work. One wishes, particularly on the occasion of a solo show, that the hanging committee might bend a bit from the mechanistic, get-the-visitor-to-do-a-circuit-of-the-room style that has defined COVID-era curating at the cooperative. There's a lot to be said for more varied spacing, drawing connections between non-adjacent works, favoring some pieces over others — even for a bit of constructive disorder.