ITHACA, NY -- Ithaca's fall gallery season has been characterized by the cautious reopening of key local art spaces. (Cornell's Johnson Museum and Ithaca College's Handwerker Gallery, which remain closed to the general public, are the major exceptions.) Run by the local arts council and located on the Commons, the Community Arts Partnership's ArtSpace Gallery is the latest reentry.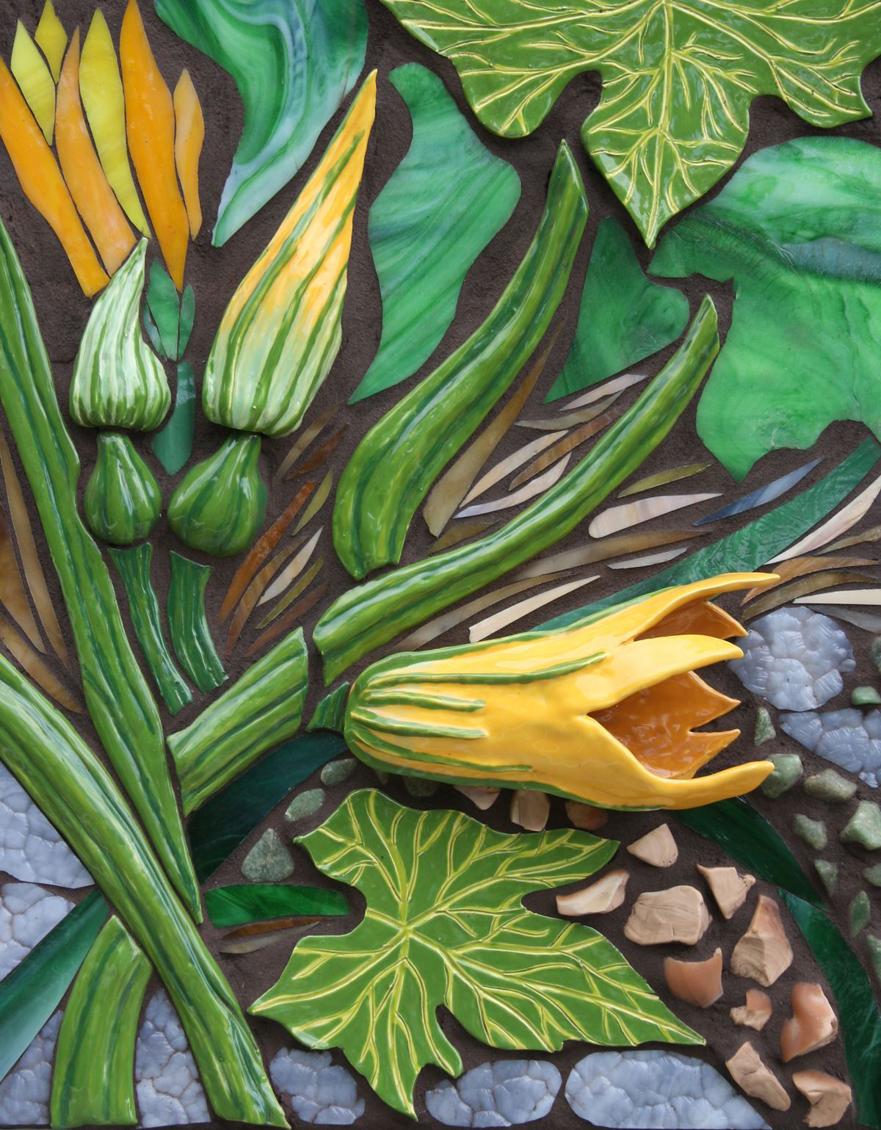 Their November show, "And It's Good: Mosaics by Marjorie Hoffman," (showing through Nov. 28) is most welcome. Featuring framed, wall-mounted pieces in a medium less-often seen in a formal gallery setting, it makes good use of the expansive space, also known as the Ithaca Commons Gallery. 
Hoffman's work incorporates handmade ceramic tiles, fragments of stained glass, and carved and found pieces of wood, as well as stones and shells. (Witness the unexpectedly Pop-reminiscent "And It's Good Logo," a square panel with the cartoonishly lettered title in the center, in grisaille, surrounded by colorful strips of glass.) The bounties of nature, particularly plant life, are her main themes, though a few pieces here illustrate or allude to Biblical themes. 
Not surprisingly, given Hoffman's contemporary mosaic approach, a tension emerges between the predominant shallow relief and her more fully sculptural elements. Small stones and shells act as textural punctuation while larger forms, such as her ceramic leaves and flower petals and natural wood forms, act as "figures," drawing the viewer's focused attention. This tension, while sometimes awkwardly resolved, adds to the interest of her work. 
A welcome outlier here, "Cherry Blossoms" pushes the interplay of flat and three-dimensional elements to a comical, even absurd extent. Supported by a dark tree branch, a pale, pink, papier-mâché cloud bursts out along the top edge of a lime-green-painted wooden box frame. The sky, in a light purple-blue, has been shoved beneath, filled out in an incongruously delicate tesserae of stones, shells and tiles. 
It would be interesting to see more work that breaks the frame, extending out into the realm of full-fledged sculpture. Or perhaps the artist might alternate freestanding pieces with wall-mounted works. 
More characteristic, at least in style, is "The Lord Saw It Was Good." A nicely articulated, tan-toned carved wood hand emerges from the sky. He (God) is about to release a small bird, in a lighter wood, upon a somber-colored stained glass landscape held together in lines of pale, dirty yellow mortar. A banner—a mottled ceramic tile—floats through the sky, bearing the title in tiny black letters. It's a characteristically cute, unexpected detail.
"Entwined" is a particularly striking piece. Sculpted in medium relief, a central panel in reddish, patinated clay bears the image of a mother and her infant child. Her head and shoulders nearly fill the left, her eyelids shut, face down, wearied. The baby boy, in profile, is alert and expectant. Framing the ceramic panel but integral to the piece, a shallower carved wood area carries leaves (in yellow-green) and branches (in thin turquoise). Hoffman has added a shelf-like ledge to her usual wood strip frame, echoing the form of an altarpiece.
While three multi-panel pieces (two triptychs and a diptych) allow the artist to stretch out a bit, the emphasis here is single-panel pieces: tightly packed, self-enclosing microcosmic plant-scapes. Ceramic flowers and leaves engulf most of the artist's pieces here: sometimes gaudy but at their best welcoming and rich. 
"Chaos of Tropical Life III" is a particularly engaging effort. The panel incorporates snaking copper wires into its dense mélange of deep green leaves, crimson and orange ochre accents, and evocations of dark soil. The leaves are accented—seemingly lit—with veins of eye-popping white. 
Predominantly ceramic pieces like "Tropical Leaves," "Lilly," and "Sedum" zoom in on plant forms in a manner reminiscent of Georgia O'Keefe. These display a compelling abstraction, but the glossiness of the glaze can be off-putting when not offset by rougher textures and more subdued surfaces. "Staghorn Fern" gets the balance right, playing off shiny and matte, bright and dark, clay fronds against a seemingly nocturnal ground of glass and stone.
In deference to the current public health crisis, "And It's Good" can also be viewed as a "virtual exhibit." (See the CAP ArtSpace's website for a link.) I recommend, however, seeing Hoffman's mosaics—rich in color and varied textures—in person if possible.