ITHACA, NY -- Ithaca's exhibitions scene, which has been recovering steadily throughout the year, is poised for a big flowering this fall. 
The big news is the reopening to the general public of the Herbert F. Johnson Museum of Art at Cornell University and the Handwerker Gallery at Ithaca College, both shuttered since the start of the pandemic. Occupying Cornell's historic 1973 I.M. Pei tower, the Johnson Museum (museum.cornell.edu) is an indispensable visit for any local art enthusiast. 
Their big contemporary show this fall (through Dec. 19) is "Art and Environmental Struggle," which "brings together the work of 20 artists responding to environmental challenges occurring in their countries and communities." A related symposium, "Rhythms of the Land: Indigenous Knowledge, Science, and Thriving Together in a Changing Climate," will be held at the museum and at the Cornell Botanic Gardens from Oct. 11-13. 
Other current or soon to open shows at the Johnson explore documentary photography, Southeast Asian art, illustrations of Dante, and "the art and design of women's lives."
Under the direction of Mara Baldwin, the Handwerker (www.ithaca.edu/handwerker-gallery) does a strong job of representing faculty and students as well as inviting often up-and-coming artists from out of town. A curatorial focus on the work of female and minority artists is also clear. (Baldwin also co-curates, with her partner Sarah Hennies, Neighbors, a home gallery and performance space. It's on hiatus this month but will be reopening in October.)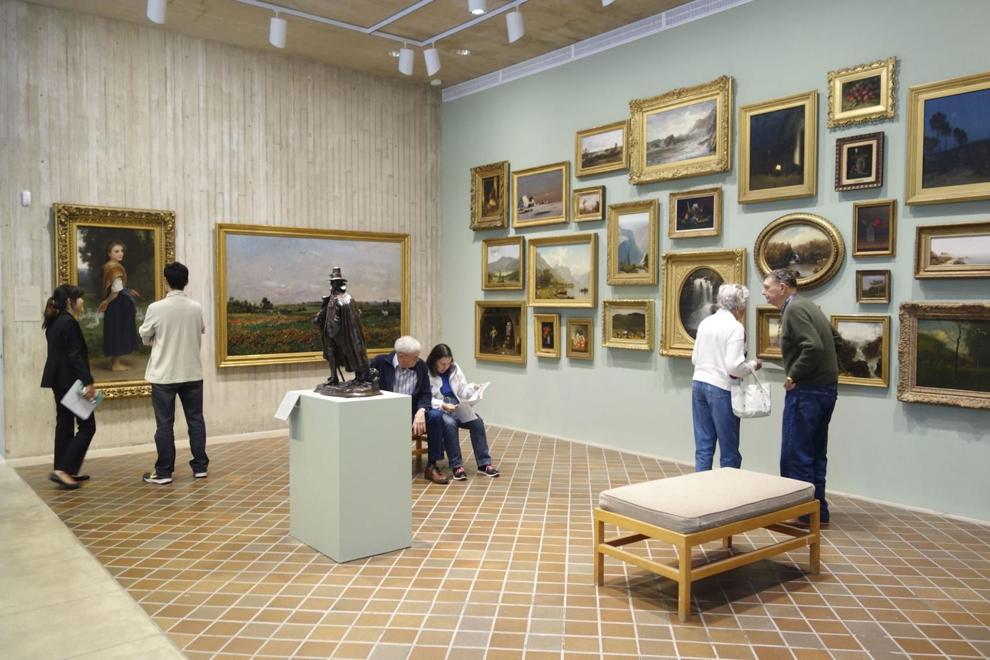 The Handwerker's current lineup (through Oct. 13) features work by two Ithaca College faculty members. Paloma Barhaugh-Bordas' "Thicker Than Forget" incorporates painting, printmaking, and photography as an inquiry into cartography, perception, and nature. Photographer Lali Khalid's "First Light, the Skylarks Sing" explores topical subjects of immigration and identity through the traditional genre of portraiture. Barhaugh-Bordas will give an artist talk on Sept. 14 and Khalid on Sept. 16; both talks will begin at 6 p.m. 
Located across Route 96B from Ithaca College, The Gallery at South Hill (www.southhillbusinesscampus.com/gallery-at-shbc/) is enjoying a new life under the direction of local painter Michael Sampson. "Jessica Warner: The Color of Distance" (Sept. 18-Oct. 17) promises to be a season highlight, with her signature abstract expressionist still-lifes in welcome abundance. Next up is Sidney Piburn, an accomplished and introspective abstract painter. 
Over in Cayuga Heights, Corners Gallery (www.cornersgallery.com) has been juggling an irregular calendar of mostly informal exhibits. Their current group show, "Project Polaroid," (up through Sept. 17) is an exception. Co-curated by gallery owner Ariel Bullion Ecklund and photographer Rachel Philipson, the show is playful and wide-ranging. Upcoming will be "Mundane Marvels/Paintings by Jennifer Small" (Sept. 25-Nov. 6). Abstract painting is a forte at Corners and the Delaware artist's snappy, brightly colored geometric pieces promise interest. 
The bulk of Ithaca's independent gallery scene remains concentrated on and around the Ithaca Commons. The definitive listing for downtown art shows is courtesy of Gallery Night Ithaca, which is administered by the Community Arts Partnership (CAP). A monthly list on their website (www.downtownithaca.com/gallerynightithaca/) includes shows not listed here as well as announcements for the popular "first Friday" gallery walks. 
CAP (artspartner.org/) also runs their own gallery space, located in the former Tompkins Trust building in Bank Alley. Their current show, "Finding Wholeness in Imperfection" (through Sept. 26) features ambitious figure paintings by Ithaca College student Julia Bertussi. Upcoming shows include their October Greater Ithaca Art Trail show, a display for Native American Heritage Month the following month, and their popular "CAP-a-Palooza" art sale in December. 
Founded in 1989, the State of the Art Gallery remains an anchor of the local gallery scene. This month's members' show "Life Within and Around Us" (through Sept. 26) features a characteristically eclectic grouping from 18 gallery members – including new member Vincent Joseph. 
Located on the other end of State Street, above the Community School of Music and Arts, the Ink Shop Printmaking Center (ink-shop.org/) is another long-lived cooperative. Their "2021 Member Exhibit" (through Sept. 25) shows them as strong as ever. An upcoming show, "Dan Welden: Aesop's Fables (Color Sequel) (Oct. 1-24) should be a particular treat, highlighting a series by a legendary technical innovator.  
Finally, it would be remiss not to mention See Beyond Art (seebeyond.art/), another collective, which has recently set up an evolving pop up space in Center Ithaca. They're proponents of what the writers David Carrier and Joachim Pissarro have dubbed "wild art" — beyond the whims of stuffy art world gatekeepers such as yours truly. Regular evening hours have been extended through Sept. 18.