On a crisp fall day, nothing says home-sweet-home better than the fruity fragrance of a harvest apple pie, its juices bubbling over, fresh from the oven. The scent of apples and caramelized sugar perfuming the air is an homage to Pomona, goddess of fruit trees, gardens, and orchards, and an open-handed invitation to a chat over a slice and a cuppa whatever you're having, and perhaps a piece of well-aged cheddar.
As "American" as apple pie is considered, it seems actually to have been invented by the British. Food historians claim to have traced pie's history back as far as ancient Egypt, perhaps even earlier, but it is claimed that the first written apple pie recipe goes back to Great Britain in 1381, published by Geoffrey Chaucer, and containing not only apples, but figs, raisins, and pears. Here it is:
 For to make Tartys in Applis.
Tak gode Applys and gode Spycis and Figys and reyfons and Perys and wan they are wel ybrayed colourd wyth Safron wel and do yt in a cofyn and do yt forth to bake wel. 
(To make apple tarts, take good apples and good spices, figs, and raisins and pears, and when they are well sliced and colored with saffron, cook it in a crust, and bake.)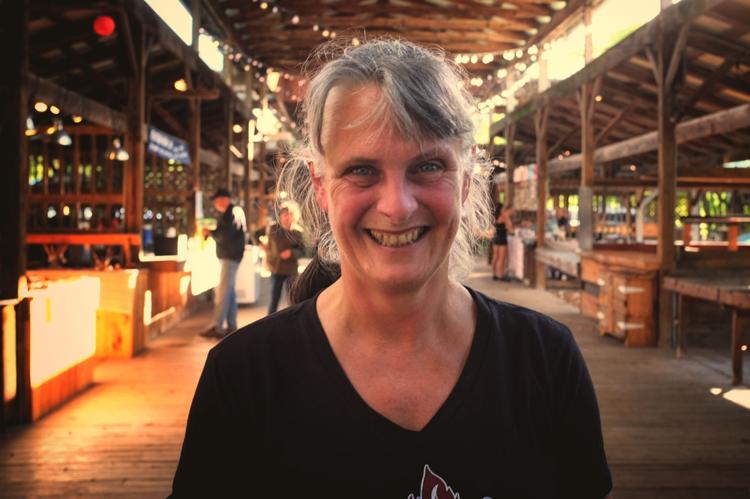 There is mention of the crumb-topped Dutch apple pie as early as the 1600s. In America, apple pie, in concert with Mom and the flag, was an early American favorite because the post-Johnny Appleseed (John Chapman, 1774-1845) fruit was abundant and easy to preserve by drying. Locally, farmers stored apples in barrels (as documented by Groton photographer Verne Morton) or under their floor boards through the winter, and probably sweetened their pies with boiled-down cider syrup or honey; sugar was an expensive import.
With our modern conveniences, the baking of an apple pie is far less complicated. Local baker extraordinaire Leslie Muhlhahn of Just Desserts gave us the cook's tour of her own apple pie baking. Though she is culinary school trained and a pastry chef by predisposition, her pie crust recipe came from her mom who, she says, pulled it out of a women's magazine way back when.  You can find Leslie Thursday evenings at the Ithaca Farmers Market, selling individual pizzas and all manner of pastries. Here is her apple pie recipe, adapted from a commercial 9-pie recipe; this one makes one heartwarming pie. If there are any errors, I'm to blame.•
Leslie's Mom's Apple Pie
2 cups all purpose flour
1 cup (2 sticks) cold unsalted butter, cut into pea-size pieces
1 tsp sugar
1 big pinch of salt
1 small or medium egg, whisked 
¼ cup ice water
½  tsp vinegar (keeps gluten from forming and crust tender)
4 lbs of Empire apples, peeled, cored, and sliced
¾ cup sugar or ½ cup reduced apple cider for intense apple flavor
½ tsp cinnamon
1 TBSP lemon juice 
Quickly combine butter with flour, sugar, and salt until it looks like coarse cornmeal with pea-size pieces of butter. You can do this either with a pastry blender or with a few quick spurts of your food processor.
Combine egg, ice water, and vinegar, and add to the dry mixture, adding only enough to make dough come together when pinched.
Gather, pat into two disks and cover in Saran wrap; refrigerate for a half hour to an hour.  At this point, you can freeze it, but if you do, double wrap it, or put the Saran-wrapped dough in a plastic bag and squeeze the air out of it. Frozen, it's good for at least a couple of months.
With the dough still cold, roll out the disks on a floured surface until it's wide enough to hang over the edges of your pie tin. 
For apples, Muhlhahn recommends Empire, suggesting that Granny Smith apples are too dry. She also recommends purchasing The World's Greatest Apple Peeler from Wegmans, which cuts the time for this task substantially. On the other hand, if you have kids clamoring to help, you may be able to spread the joy around. Mix the apples with sugar or reduced cider, cinnamon, and lemon juice, and pile the filling ridiculously high above the edge of the crust.  Cover with the second crust, slicing a few slits in it to allow the steam to escape, and seal the pie all around.  Place on a baking sheet to catch any drippings, and bake at 400 degrees F for about 50 minutes, or until a knife inserted into the filling goes in very easily.  Cool, and enjoy with a scoop of ice cream or a slice of good New York cheddar.
May 13 2018 is Apple Pie Day (it's also Mother's Day).  You have a few months to perfect your game. Go to it!