ITHACA, NY -- I LOVE raw oysters!  Throw in a generous chunk of homemade cornbread and a well chilled glass of a dry Sauvignon Blanc and I'm in dining heaven. In Ithaca, we're lucky to be able to find this exact combination and it's easy to access.  I understand that not everyone likes raw oysters, however if this food and wine combination happens to resonate with you, it's available every day at Maxie's Supper Club and Oyster Bar at the intersection of Fulton and State Street in downtown Ithaca. 
The oysters are shipped in weekly from Boston, the cornbread is made daily on the premises, and though I normally prefer Sauvignon Blanc from New Zealand, the one served here, from Chile, is most enjoyable. 
It's interesting to note that, before the pandemic, Maxie's served about 2,500 oysters a week,and now sells about 1,000.  They're mostly from Massachusetts and nearby states and usually include Riptides, Cotuits, Barnstables and Bluepoints. Maxie's charges $3.25 for each however they're offered at half price from 4-6 p.m.
Maxie's sells about 200 servings of cornbread a week and, a nice touch, if you order takeout, you'll find some included. A pleasant complement to the cornbread is a compound orange/honey butter which is assembled in their kitchen.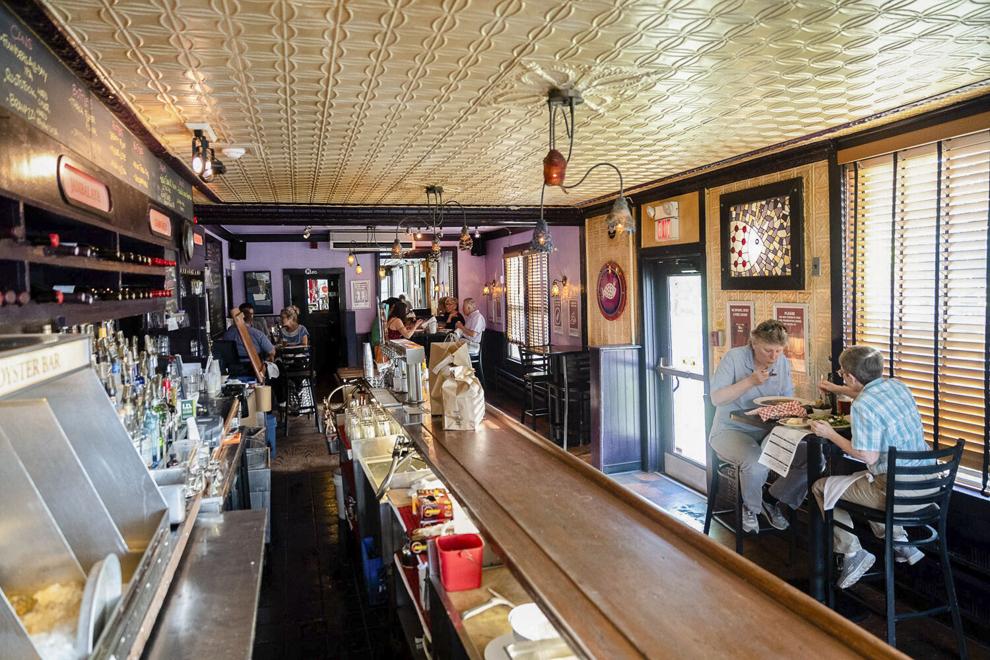 Among "Maxie's Favorites" on the menu is BBQ Pork Spare Ribs. They're offered in three sizes; 1/3- $12.50, 1/2-$16.50, and full-$26.00. I ordered the half rack and that turned out to be a good choice, as they were particularly "meaty" with lots of lean pork on each of a half-dozen bones. The portion of BBQ beans was also on the generous side. Someone in the kitchen had stacked the ribs in a slightly elevated block making for an attractive presentation when the server delivered them to the table. 
In the Maxie's "Soul-Stirrin' Classics" section of the menu, I recently selected a half portion of Jambalaya Me-Oh-My-A, ($19 full, $14 half) a New Orleans classic that I'm not aware I can find in any other Ithaca-area restaurant. The good news is that it was all I wanted for dinner and wasn't excessively spicy, however I would have preferred a smaller portion of rice in comparison with the other ingredients of shrimp, andouille sausage and chicken.
Since one of Maxie's specialties is New Orleans style seafood, I recently ordered a pan seared Mahi Mahi ($26) with pimento and basil pesto butter, tender roasted potatoes with capers, and grilled asparagus.  In addition to being attractively presented, it was delicious with an excellent combination of textures and flavors. 
In the same section of the menu you'll find large, juicy Portobello mushrooms ($16.50) which are accompanied by creamy mashed potatoes, baby spinach with stems, and shallots, which were cooked just the right amount of time.
If I have room for dessert, I often opt for the warm homemade ginger cake because the ginger is grated on site and it's accompanied by real whipped cream 
The wine menu, though not extensive, is certainly adequate. In the bottle section, the countries of origin, vintages, and wineries are listed, and I found the selection of reds spot on. Among the whites I would have liked a Dry Riesling to have been included. Prices are reasonable ranging from $25-$80. Some local wine aficionados might not be thrilled that there is only one white and one red offering from New York state and although four new wines are about to be added, there still won't be a dry Riesling. 
There are several distinct dining areas including a bar with a tin ceiling, a room with floor to ceiling glass doors which can be removed in clement weather, and an outdoor covered patio with fabric walls that can be raised and lowered.
It should be noted that Maxie's is noisy. It has the same low ceilings, some made of tin, and open kitchen, fronting on the dining areas, that it had when it was constructed in 1999. 
The combination of New Orleans-style seafood, Southern BBQ, friendly, efficient staff, and diversified atmosphere make Maxie's an enjoyable evening experience.