ITHACA, NY -- Do you like fried chicken? How about BBQ pork ribs? Well then, if you haven't discovered The Rook, located near the West End of downtown Ithaca on State Street, you're in for a treat.  With their limited menu, these two entrées constitute 50% of their total main course offerings — and both are really excellent.
First, their most popular entrée, fried chicken. After it's delivered to the restaurant, the cooks dress it with herbs and spices and then vacuum package it. When a customer orders fried chicken, a light breading is applied and it is briefly deep fried in duck fat for a rich, crispy, robust texture and flavor.  It's cooked to the point of being juicy without being fatty and offered in four-piece ($11) and eight-piece ($19) servings. It comes with a dipping sauce which is way too hot for me, however the chicken is juicy enough that I don't feel the need for a sauce.
The chicken isn't accompanied by a side dish so I usually order collard greens ($7) which I really enjoy.  Collard greens need a bit of cooking to soften and these are cooked just enough to be the right texture without being mushy. They're cooked in some of the homemade broth gleaned from cooking the chicken. During the cooking process some ham hocks (an authentic southern touch) and a bit of vinegar are added. Another side I've tried is their homemade coleslaw ($7) and I prefer their vinaigrette base to the gloppy mayonnaise served in many establishments. The addition of some flavorful seasonings, including poppy seeds, adds a welcome accent.
The BBQ pork ribs ($13 for a half rack - $23 for a full rack), are "meaty" without being fatty and are seasoned with just a bit of spices without being overpowering. I was happy to discover that it's easy to cut the meat off the bones with the plastic knife that's offered.
I don't usually order a dessert with dinner but at The Rook I alternate between the only two on offer. They make their own doughnuts and they're delicious. For lack of a better word, I think of them as "cakey" and moist. Most recently I ordered the blueberry glaze, crumble doughnuts. Yes, that's plural. You must commit to three doughnuts ($7) and all three are the same variety which is changed frequently.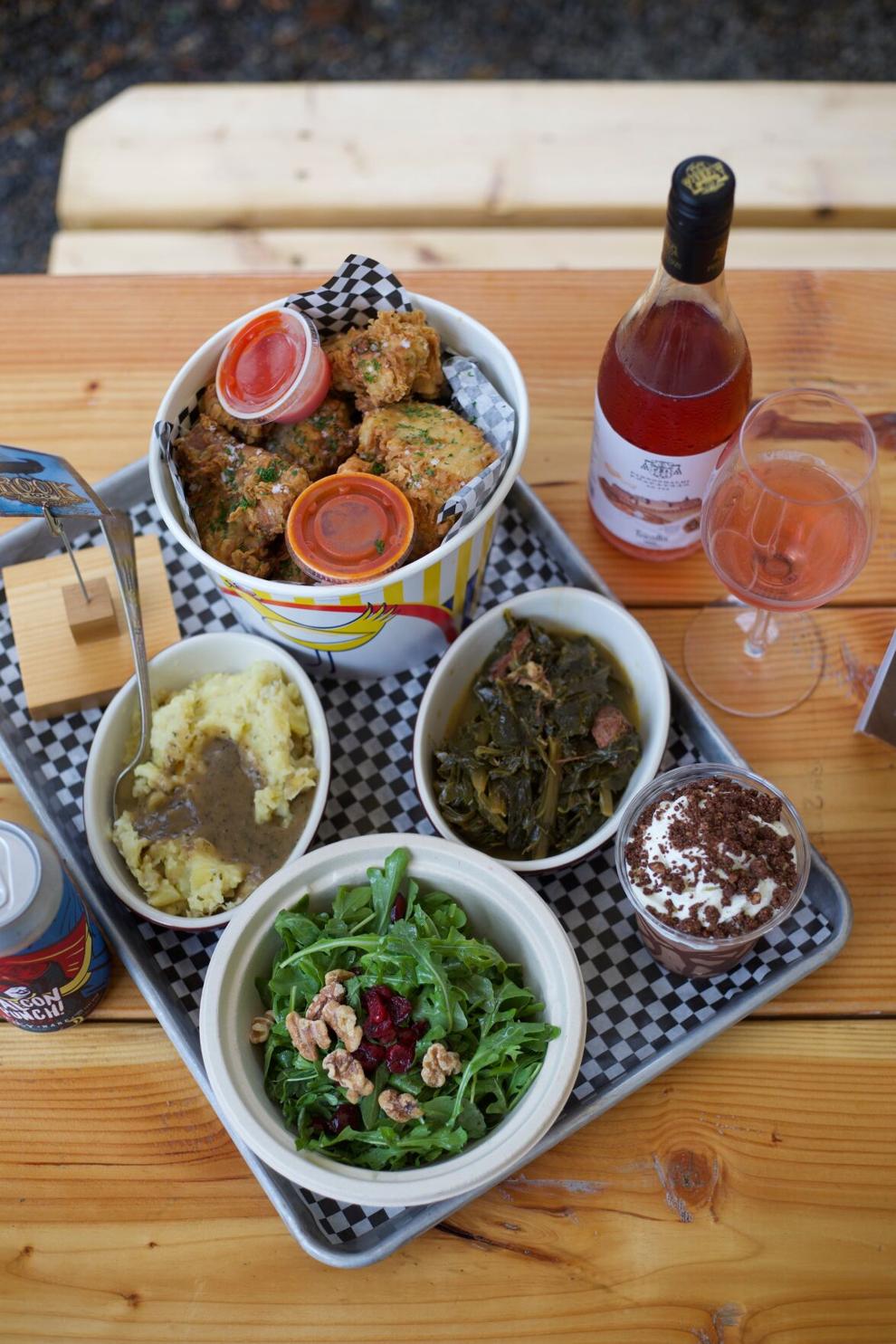 The other dessert is a pudding, served in a small parfait dish.  Recently it was banana foster vanilla pudding which I ordered and enjoyed. Bananas were sliced and layered with the pudding and topped with whipped cream and crumbled corn flakes. It had a slight flavor of rum and was a great ending to an excellent dinner.
This type of cuisine is not particularly conducive to fine wine accompaniments, which is appropriate as only a total of four wines are on offer, all for $7/glass: a red, a white, a rose and a sparkling. Names of country of origin, wineries, and vintages are not supplied. In addition, there's a limited selection of esoteric beers on tap, in cans and in bottles.
You might have figured, by the type of food on offer, that The Rook is not a place to go for fine dining. Rather, it's more like going to an indoor picnic — dishes are all paper, cutlery is entirely plastic, beverages, including draft beer, wine by the glass, and water come in plastic cups, and there are no table coverings. The main courses and sides are brought to the table in cardboard dishes.  
The restaurant is small — long and narrow — however there is room outside for people who enjoy al fresco dining. And every time I've been there I've noticed a steady stream of apparent regulars who pick up dinners they've ordered in advance.
If a restaurant only offers a small selection, e.g., the four entrées at The Rook, I think we have a right to expect really fine quality because the cooks can concentrate on the purchasing, seasonings, preparation, and cooking time and method of their limited selections.  If you don't mind the extensive use of paper, cardboard, and plastic, I think you'll be very happy with the generous portions, friendly, attentive service, and the excellent quality of the food at The Rook.  
TID BITS: 
-A 15% gratuity is added to every bill.
-The Rook is closed Sunday and Monday and not open for lunch.