You might think that someone who has publicly reviewed restaurants for two decades, in the relatively small city of Ithaca, would become blasé when checking out the variety of dining establishments. In my case, that would not be correct. I am still in awe of the amazing variety and scope of what is available so close to us. For example, when I travel about the country, it's not at all unusual to land in a city much larger than Ithaca and look for, and not find, an Indian restaurant. Here, there are several, all close by; in fact, there are two, Sangam and Mehak, just a few doors away from each other on Eddy Street in Collegetown. Over the years I've enjoyed many meals at both and have reviewed them for the Ithaca Times. Personally, I prefer Mehak for reasons which should become clear when I review it again next spring, however I am very comfortable in saying that whichever you choose, you'll get an authentic, tasty, well-cooked meal. 
Sangam was the first of the two to open its doors. The current owners took over an Indian establishment in 1990 that had opened in 1983 and renamed it. Sangam refers to the holy place where two rivers, the Ganga (Ganges) and Jamuna merge. It retains a light, bright spirit with the help of Indian themed adornments on its soft lime green walls. As you might imagine, in a college town, the all-you-can-eat lunch buffets ($11.99) are the jewels in the crowns of both these Indian establishments. Among the ten hot trays at Sangam, you'll always find rice, Tandoori chicken (cooked in a cylindrical, clay, high temperature Tandoor oven), chicken curry, Dosa (rice flour filled with potatoes or vegetables), nan and some form of sag (greens, usuallyspinach) which might be combined with potatoes, chick peas, green peas, or Paneer, (soft cheese made by curdling milk with acid, e.g. lemon juice) on any given day. The other offerings may change from day-to-day but don't expect a lot of surprises or variations. Cold dishes include a salad, usually tomato slices with pale iceberg lettuce, and a liquid rice pudding. If, for any reason, you don't want to have the buffet, you can always order items from the menu.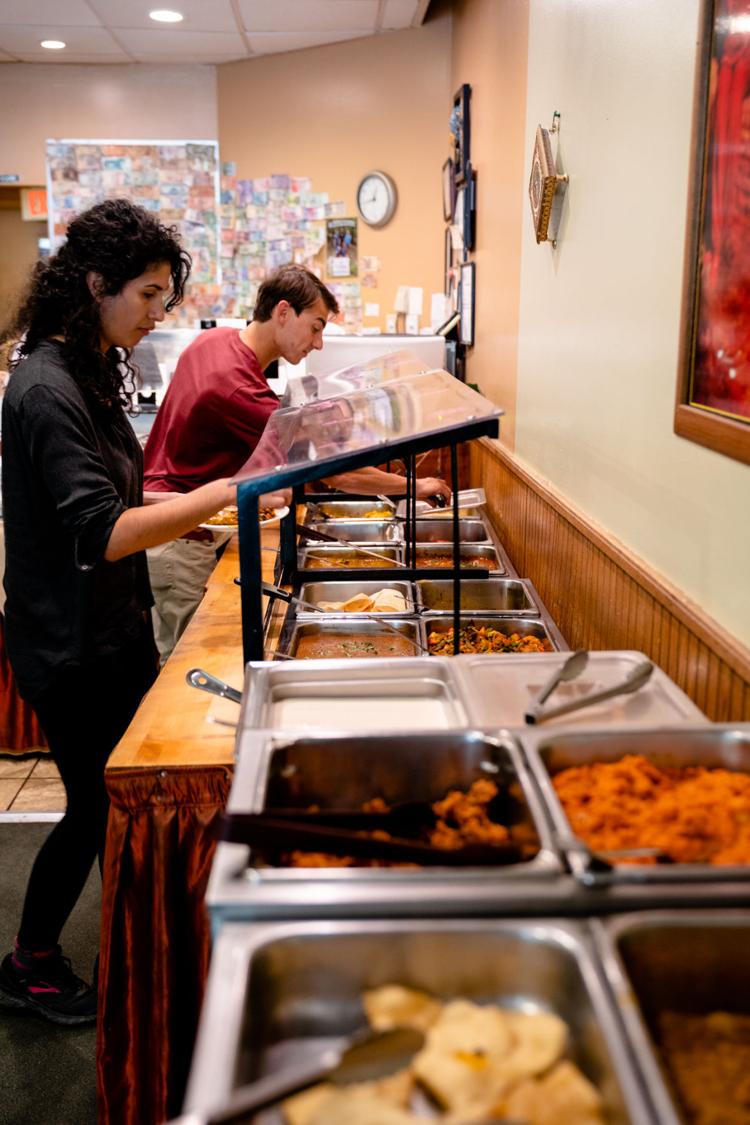 Two entrées I've recently enjoyed are Bhindi Masala, which is okra sautéed with chopped ginger, onions, and tomatoes, and Goat Sagwala ($14.95). Chunks of tender goat meat are served in a casserole with creamed spinach and spices. Note: The way goat is butchered in India is often with a cleaver that leaves small, and sharp shards of bone. Indians like the minerals available from the bones split this way but be careful and don't let small children order goat dishes.  Are you, like me, weary of having a server inquire, at the end of a meal, "Did you guys save any room for dessert?" Well, I have the perfect antidote. First, because it's a serve yourself buffet, there's no one there to query you. And most importantly, unobtrusively sitting very near you, on the buffet table, is Gajar Halwa (carrots mashed with milk and cardamom). Because it's sweet, it strikes me as the perfect answer to "you readers" if you, in fact, didn't save room for dessert but you indulge in dessert as you eat wonderfully tasty mashed, healthy Carrots.
The bottom line for me is that food quality and preparation is the key ingredient of any restaurant and at Sangam, both are excellent.
Tidbits: 
Parking on the hilly streets of Collegetown can be challenging, however, there are garages close by. I have an ongoing problem with communications and time management at Sangam. With all the times I've eaten there, the restaurant consistently opens with only 50-70% of the hot dishes available on the buffet. Various kitchen staff bring trays out when ready, which can often be 15 minutes late, and, the most expensive item on the buffet, the Tandoori chicken, is often last out. 
There are no prices listed on their website menus, but I find prices to be quite reasonable.