ITHACA, NY -- The Taproom at the Ithaca Beer Company, near the Buttermilk Falls exits off Route 13 and Route 13A south of Ithaca, gives proof to the idea that to eat well and have a most enjoyable dining experience doesn't have to include typical fine dining accoutrements.  
Here you'll be offered paper napkins, plastic cutlery and Styrofoam-type dishes, all brought to the table by you, the customer. There are no servers, no silverware, no crockery, and the beverages, even the wonderful craft brews produced on site, are usually served in plastic cups.
The prescribed routine is to select a table, if available, on the spacious outdoor patio or in the restaurant proper. After perusing the limited menu, you'll join the queue at the counter and order the dishes you've selected. You'll be given a buzzer that will alert you when your meal is ready. Since many of the dishes are prepared to order, this could take some time.
If the kitchen is a bit slow, I think you'll be happy waiting because there seems to be a lighthearted atmosphere that pervades the establishment, and the food that is being prepared for you packs a lot of flavor and is served in attractively prepared and generous portions.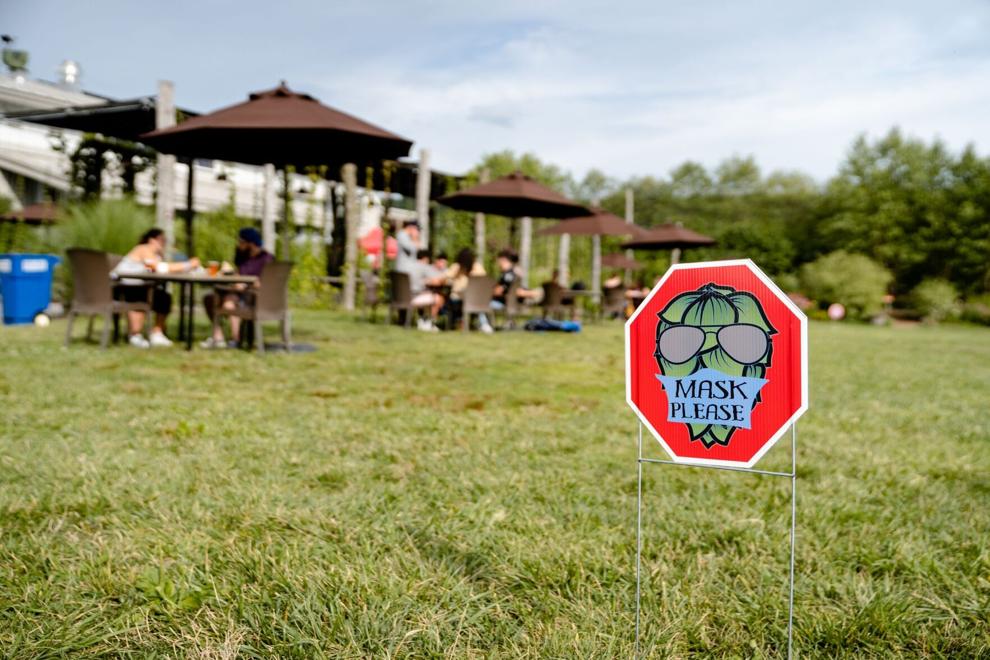 In mentioning the limited menu, don't expect a main course of meat and potatoes and a vegetable side. There are only three categories on offer: lighter fare, pizzas, and burgers & sandwiches.
On recent visits I selected cheddar ale soup and minestrone soup (both $6) from the lighter fare portion of the menu. The cheddar soup was intense and creamy. (If I wasn't attempting to be a sophisticated restaurant reviewer, I'd describe it as "cheesy.") It's made with a touch of their Flower Power IPA and a New York aged cheddar. The minestrone was chock full of vegetables, including potatoes, celery, onions, carrots, tomatoes and beans with saturated croutons. Curiously, a luncheon companion and I both thought the minestrone tasted just like Manhattan clam chowder with croutons. That is probably due to the generous inclusion of bay leaves and thyme.
Also from the lighter fare section of the menu, I selected the sweet and sesame salad ($12). This turned out to be a huge portion, attractively presented, even if on a Styrofoam dish. The salad included local greens, which featured small pieces of kale, orange slices and red bell peppers, all surrounding a large mound of brown rice. The whole salad was dotted by black specks of sesame seeds.
I had to try the Taproom burger and was pleasantly surprised. Frankly, I wasn't expecting to enjoy a burger so much in a brewery restaurant. I ordered it medium rare, and when I was summoned to pick it up, it was indeed, medium rare. It was served on an open-faced Ithaca Bakery brioche. I would have preferred a more generous portion of melted NYS cheddar. However the crinkly greens, pungent pickles and smoked garlic aioli complemented the beef quite nicely.
Predictably, the Ithaca Beer Company restaurant has a complete menu of beer on tap. The most popular is Flower Power, which they distribute to 15 states in the East. It's a "hoppy" IPA, but they also offer another strong ale with a strong hop character, CascaZilla, which I prefer.
The atmosphere is spacious and light with tables well-separated, and overhead fans distribute fresh air from their up-to-date ventilation system. The music, which plays continuously, is not my taste, but at least the volume level is kept to a point where it's not intrusive. The only time staff come into the dining area is to sanitize the tables and chairs when patrons leave. A few colorful hanging plexiglass panels separate some tables.  I question how effective these are, but the bottom line for me is I feel safe there.
Tidbits:
-It is disappointing how many of the dishes, plastic silverware and cups get thrown away and what a small percentage are recycled.
-The Ithaca Beer Company is planning to open a satellite in the new Student Agencies building in Collegetown in August. Watch this space in September for a review.