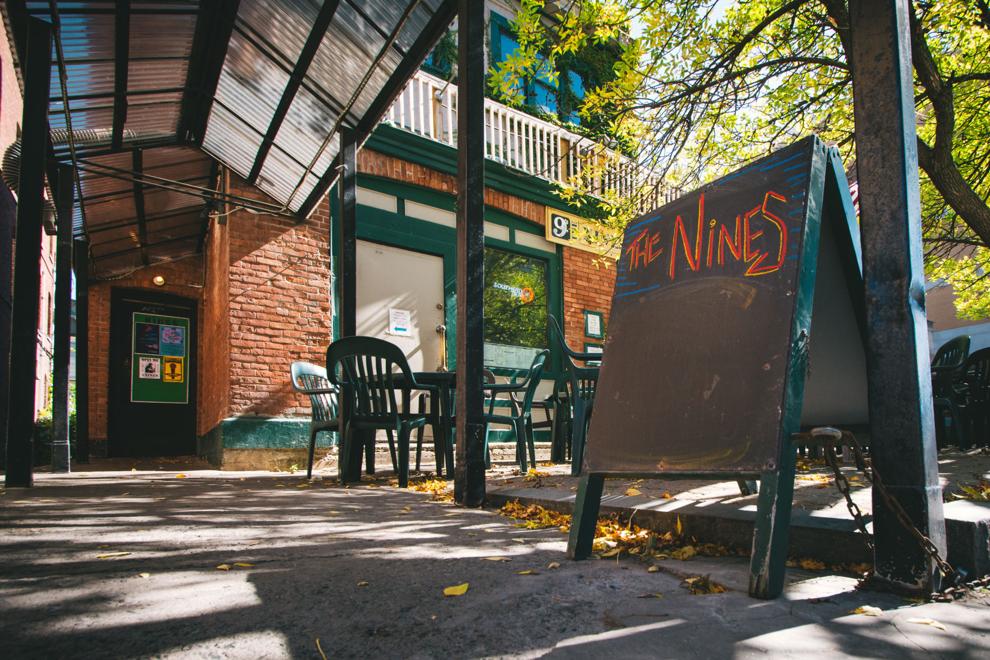 Staff writer Matt Butler contributed to this report.
What once seemed to be merely a eulogy to the waning "soul of Collegetown" has, in the words of one official and the architect of large swaths of the city's development philosophy, hit "a crisis point."
So were the words of Planning and Development Board member John Schroeder in City Hall last week when, presented with a plan for another modern mid-rise apartment block on College Avenue to replace the more than century old home of popular rock club The Nines, he lamented over a tipping point in Collegetown development he sees as a crucial juncture in the neighborhood's future: not as a tastefully harmonious study of old and new architecture in a high density urban context, but as an effort to scrub one of the few remaining relics of Ithaca's history from the streetscape.
In the past several months, four very real proposals have come to the Planning Board proposing just that, threatening the future existence of four historically significant properties on the eastern side of College Avenue within the next several years: the slow historic designations at the committee level of the Larkin Building at 403 College Ave (which is, Schroeder said, being looked at for redevelopment) and the nearby Chacona Block at 411-415 College Ave (which has a serious proposal, Schroeder said, to be redeveloped by owner Student Agencies Inc. in the future), and the proposal to demolish The Nines looming, which includes the demolition of the original 1894 fire station – the first in Collegetown – and its 1908 addition which, like many of the building's more rickety, unsightly neighbors, may soon be torn down for a sleek residential tower catered primarily to students.
All of this is happening as the City of Ithaca works to finalize a set of Collegetown design guidelines and as preservationists race in their advocacy efforts to obtain historic designation for the structures, signifying the beginning of a potentially heated fight over the final scraps of historic Collegetown.
"I totally support the transformation of Collegetown, but it's a bedrock principle for me that the most significant historic buildings be preserved as part of that mix," Schroeder said in an interview. "It's a richer environment with deeper meaning for past and future generations if there's a record of those generations that came before us in the development of Collegetown. Tearing everything down and building everything new, I think, creates a monoculture that is much less fascinating and informative to the public."
Schroeder's concern begins with a 2009 document written in conjunction with historian Mary Tomlin called the 2009 Collegetown Urban Plan and Conceptual Guidelines, a baseline document for the neighborhood endorsed by Common Council that included the highlighting of a number of key architectural assets in the neighborhood. Of these, the block currently under threat was explicitly highlighted, the plan stating "The east side of the 400 block of College Avenue is a major urban planning success, notable not only within its Collegetown context, but within the context of the City as a whole."
"That's what I think is so valuable: a conversation on the streetscape between past, present and future," Schroeder said. "It's important we don't eliminate the possibility for that link to exist, that we in our isolated era of time don't have the arrogance to simply wipe out the past like we have all the answers."
In a statement on page 52, the plan stated certain resources in Collegetown should be identified by the Ithaca Landmarks Preservation Commission and designated as historic landmarks by Common Council, the process ideally taking place concurrently with the consideration of the adoption of a Collegetown Form-Based Zoning Amendment.
"They sort of started out by stating that, and later they were sort of clear that the 400 block of College Avenue was significant," said Christine O'Malley, Preservation Services Coordinator for Historic Ithaca. "[...] if you're singling out that row in particular as an exemplary row, that gets complicated.
Unfortunately for activists, the preservation of these structures have remained only as recommendations – not mandates – since the plan was written and, as the design guidelines for Collegetown near final approval, are being considered at a precarious time.
The only stopgap in the plan, barring the actual preservation of the block as it stands, is that "no incentive (such as substantially increasing the maximum permitted building height) should be enacted that would provide an economic incentive to demolish any of the buildings, old or new, that together create this exceptional urban ensemble."
As such, an advocacy battle not since seen since the days of urban renewal (and the demolition of the building – the Cornell Library – that now only exists on the city's official seal) now looms as the city figures out exactly what liberties it has to stop a development that, legally, is allowed to continue unfettered.
Even before news broke that The Nines would be sold to upstart Collegetown development group Visum Development, Historic Ithaca – the prominent advocacy group formed in response to numerous historic structures in downtown Ithaca in the 1960s – has been working to preserve two threatened structures in Collegetown on the legislative front.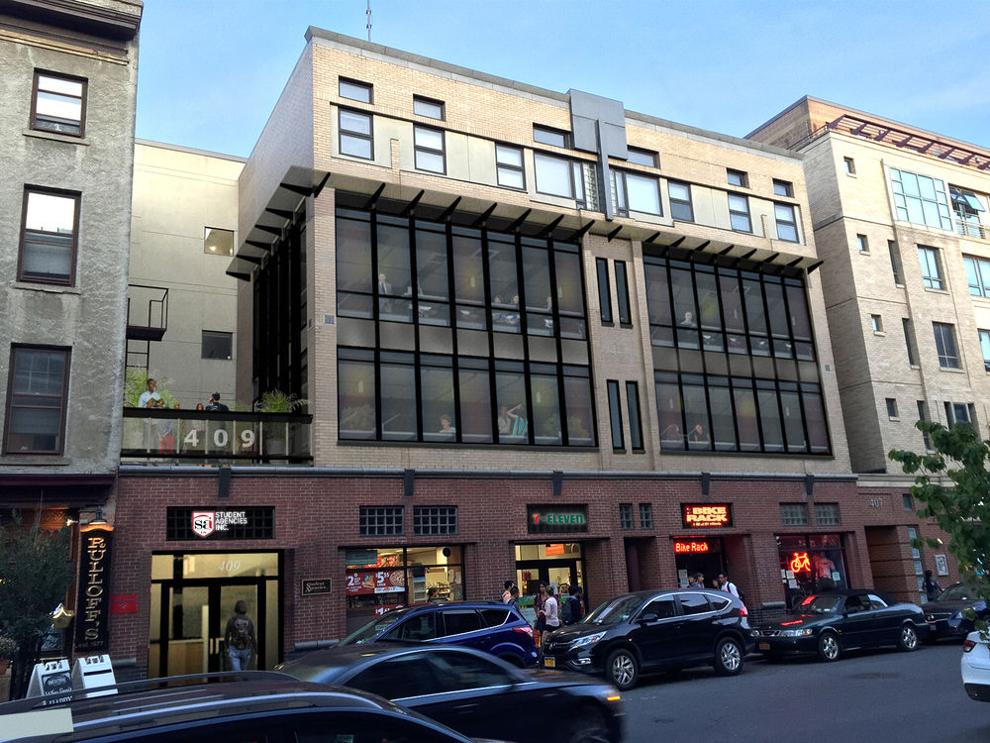 On Sept. 19, Historic Ithaca wrote letters to Common Council in support of individual landmark designations approved by the Ithaca Landmarks Preservation Commission for both the Chacona Block and the Larkin Building, designations which Common Council will consider and vote on at its upcoming Common Council meetings in October and November. The Nines, however, is a new concern.
"The Nines is more complicated story," O'Malley said. "It's been a recognized historic resource and there's been some research on it, but again it's a question of 'what do we do with this now that someone wants to buy it, demolish and build brand new on it?' By zoning, they're allowed to build to whatever height they want according to zoning, but the Collegetown Guidelines – because they haven't been approved – don't really stop that."
Visum Development and its CEO, Todd Fox (who did not respond for a request for comment by press time) have, thus far, developed a signature for building anything but big: in progress and proposed, so far, are a slate of numerous, high-capacity mid-rise buildings intended to take in a massive and seemingly bottomless market for student housing created by a lack of student housing on Cornell University's campus: Here lies a profit that far outweighs expensive solutions like historic overbuilds similar to that done by the Carey Building, whose unique frame allowed for an easier overbuild than possible for many historic structures.
There is money to incentivize historic preservation in New York State: through the New York State Parks Department and at the federal level, two tax credits – a 20 percent federal tax credit for commercial projects (including for-rent residential development) and a 20 percent credit at the state level – are available for homeowners, both tax credits New York State currently leads the nation in utilizing.
Whether that provides enough of a carrot at the end of the stick to save the building as-is could be a long-shot.
"A lot of the structures that we know and love are also structurally not sound, they're wood frame, they cost a lot of money to rehab," said JoAnn Cornish, the city's Director of Planning And Development. "Therein lies that tension, in which we love these old buildings but unless you have very deep pockets and you share, as a property owner, a love of that history, we really can't expect every person who purchases or owns property in the city to put a lot of money into an old structure when they could put that same amount of money into something that's new, code compliant, much more attractive on the market, and all those kinds of things."
"It's difficult, and it's a balance, and it's one that it's very hard to find a middle ground for."
Follow Nick Reynolds on Twitter @Nickthaca