The truest 
expression of a people 
is in its dances and its music.
 – Agnes DeMille
*
And even though it all went wrong
I'll stand right here before the Lord of Song
With nothing on my tongue 
but Halleluiah.
– Leonard Cohen
Since I returned like Odysseus to Ithaca after 30 years in the film industry in L.A., the one thing in Tompkins County that has never let me down is the Tompkins County Public Library. 
What a great library! And, in addition to all the books and music and movies and community programs and so on, the TCPL hosts marvelous art exhibits.
The current exhibit, For the Joy of Dancing, is a wonderful thing. According to the most recent Gallery Night brochure, it "presents the work of eight artists using a variety of different media as they reflect on the joy of dancing. Featured artists include Glenda Blake, Raymond Dalton, Margaret Corbit, Brian Keeler, Bill Deats, Jari Poulin, Julie Prisloe and dancer/photographer Kurt Lichtmann." 
Let's wander around the library and see what we've got…
Raymond A. Dalton: Jumpin' Jive, Baile Conmigo (Dance With Me), Que Da La Vuelta (How One Swirls), and Tighten Up.These are big, somewhat cartoony drawings, rendered in graphite and gouache, or charcoal, pastel and gouache. They are of African-American couples dancing. (Or perhaps Afro-Cuban? Afro-Latin?) Why do these drawings fill me with such joy?
I suppose it's because I am a cartoonist. I respond to the joyous use of caricature, the cartooning, the sense of movement. There is a wonderful, flowing, rhythmic quality in these works. (I think of Toulouse-Lautrec in the looseness and playfulness of the line.)
And I love the sheer humanity of the pieces, the people portrayed. And they seem a bit like period pieces – evoking another era—the 1920s or the 1930s perhaps—and something about that seems appealing to me.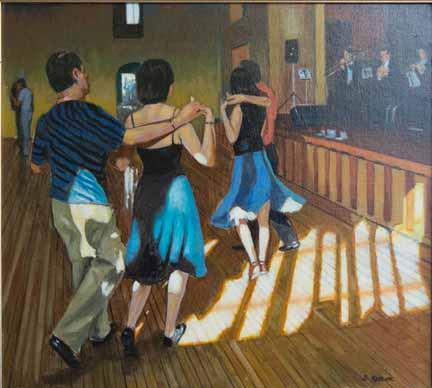 Brian Keeler: Motion of Myrth – At the Dance Flurry, Saratoga Springs (pastel), Echo of a Waltz – Spanish Ballroom at Glen Echo, Md. (oil), and Light on Their Feet – At the Dance Flurry (oil). I have written about Brian Keeler before for the Ithaca Times. I knew of his landscape paintings of upstate New York and Pennsylvania. And I thought of him as like Thomas Hart Benton or Grant Wood (two of my favorite American painters) with a Fauvist, Van Gogh-esque intensity of color and awareness thrown into the mix.
Later (for a full disclosure here) I posed for Keeler for an oil painting he painted at the Community School of Music and Arts here in Ithaca. He had the event digitally recorded to make an instructional DVD on painting. I mention this because, at that event, he had a lot of his more figurative oil paintings on display. This was a revelation. I realized that he was like a Renaissance master … only here in the 21st century. And now, seeing these dance paintings at the TCPL, I realize he is also like a great Impressionist master. 
Whereas the figurative work I had seen was more like classical Renaissance painting, these paintings, of complex arrangements of multiple figures dancing on various ballroom floors, are at the edge of Impressionism, like, say, if they were painted by Degas or Renoir. And the thing I find so enchanting is that these are clearly 21st century people … Brian Keeler capturing the here and now of our lives.
(And every time I see Keeler do something new like this, I am struck with what a 21st century masterhe is…)
William E. Deats: Bolero, Perfect Poise, Dancer at Rest, & Back Stage (all oil on canvas). I have written of the Ithaca-based artist Bill Deats before, as well. I covered two previous shows of Deats' that featured impressionistic landscapes and expressionistic works.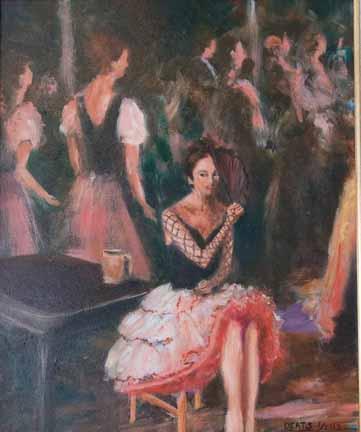 These works are closer to Academic Realism with a touch of Impressionism: A ballerina in blue (Perfect Poise), a red-toned Spanish dancer (Bolero), the soft, rainbow-hued Dancer at Rest, and the multiple female figures of Back Stage. I find these paintings especially beautiful. And, again, I am reminded of Degas and Renoir, although I think there is more of a feeling of fantasy in Deats's work, as opposed to Keeler's more documentary-like recording of our century.
For sheer, joyous beauty, I recommend the photos of Julie Prisloe, particularly Dancers in Blue and Hold My Hand, both of which were shot at the Trumansburg Conservatory of Fine Arts. Hold My Hand shows five dancing little girls (five or six-year-olds) in adorable, iridescent blue, frilly dresses and floppy hats. Dancers in Blue shows four dancing girls (seven or eight-year-olds) wearing beautiful blue velvet gowns, their fantastically curled, Rococo hair flying.
Little girls do seem to represent life at its most playful and enchanting. And these are incredibly lovely and endearing photos … a medicine for melancholy, an antidote to depression and despair.
Glenda Blake: Unlikely Dance series: Green Skirt, Entry Hall, Golden Clouds, Beethoven Oaks, Roundabout and Confluence (all oil on canvas). Glenda Blake is a major new discovery, a revelation …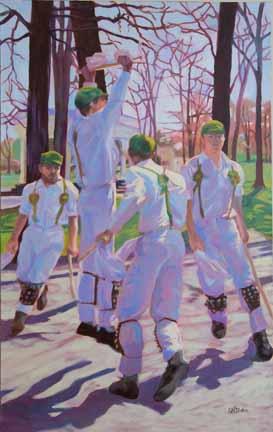 These are large, tall, vertical paintings of people dancing—in ballrooms and entry halls, outdoors in parks, on city streets, and church chapel lawns …
When I first saw these paintings, through the windows of the TCPL, I assumed they were very large photographic blow-ups. They are that realistic. But, up close, they are more impressionistic. The colors flash and glow with light. And the looseness of the brushwork seems to covey movement. (And motion is life, isn't it? As long as we are alive we are in motion. We even move in our sleep.)
I particularly like Golden Clouds, a painting with dancing women wearing white jumpsuits and flowing red-violet and purple scarves, kneepads glowing with knobs of light, the women flourishing with white cloth in the air, catching the sun …
Jari Poulin's works are photographs. Some are quite compelling. Deep Remembrance (photographic montage) is a photo of two elderly women, one in white, one in black, bent over to one side in a matching dance pose … while Be Here Nowis a multiple image of a beautiful young woman (with short hair and rosebud lips, wearing a brown tank-top and jeans) dancing – the images overlapped and staggered, and the whole thing processed to give it a wood grain-like texture. 
Kurt Lichtmann's work is also photographs. Jumpswing: Kelly Douglasscaptures a beautiful young woman in a red skirt and dance shoes and black blouse with polka dots leaping into the air in what looks like one of those frenetic WW II era popular dances. While Hip Hop: Devan Johnsonshows an attractive young woman wearing a red-and-black tank top, cut-off sweat pants, red-and-purple-and-white leggings and big black-and-white-and-orange space-sneakers leaping into the air in what I presume to be a hip-hop dance. And Tripura: Liz Welchis a multiple exposure medium-close shot of a beautiful young woman dancing (wearing a brown-and-white sparkly dress) in three overlapped exposures…making her look like some multiple armed, Trimurti Hindu goddess… A beautiful and compelling photograph.
Margaret Corbit: Showtime 1, Showtime 2, and Moonlight Frolic. Corbit's work functions almost like cartoons. In Showtime 1 & 2, bright blots of color convey an image of three dancers with drums on stage, and a show woman in the foreground. And in Moonlight Frolic, we see four fantasy figures dancing in a meadow in a nocturnal forest, with a big full moon rising up through the treetops. There is a girl in a baby blue nightgown like Wendy in Peter Pan, and a woman in a lime-green gown, arms rising in the air like flames, and a little guy with bulbous yellow pumpkin shorts and purple leggings and a little purple porkpie hat, arms writhing like orange root-flames, and a woman dancing in a red dress and purple blouse.
There are oddly squared-off tree stumps in the forest as if the stumps of rectangular trees. And the whole thing has almost an animated cartoon feel.
Well. To wrap up: For The Joy of Dancing is worth your time and attention, Faithful Reader. Something to help us all like life a little better. Very important now that we are trying to get through this hideous, cruel, Arctic weather we've been enduring here in Ithaca for the last couple of months.
So you might well spend some time perusing The Joy of Dancing the next time you're at the TCPL returning a book, or paying your library fines, or using the Internet or whatever.
Enjoy. • 
The exhibition For The Joy of Dancing will be on display at the Tompkins County Public Library, 101 East Green Street, Ithaca, N.Y. until March 21. Call: (607) 272-4557 or visit www.tcpl.org.