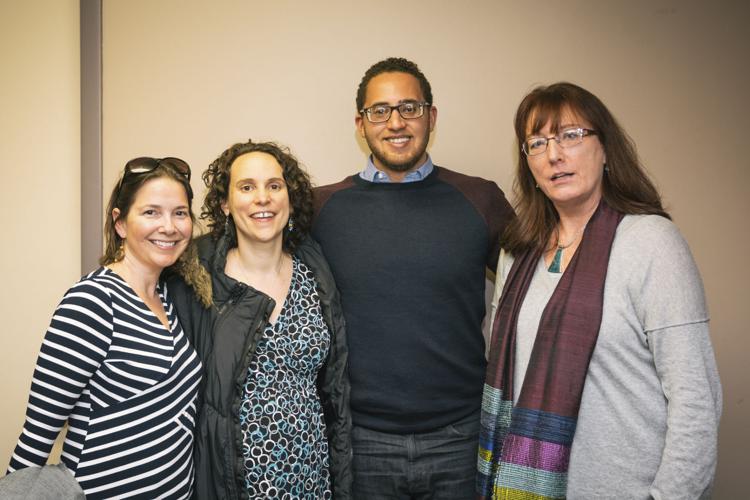 As a young girl in New Jersey in the 1960s, Gertrude Noden used to take occasional family trips into the capital city of Trenton. Walking the streets there, she observed the city's poverty epidemic of that era, which left scores of people homeless and was one of the worst economic periods in the state's history. 
Seeing the conditions the homeless lived in stuck with Noden, planting the seeds for her future interest in social justice and equality and forging an interest that hasn't dimmed in the decades since. 
"I grew up in the '70s, with the peaceniks," Noden said of how her childhood has motivated her work later in life.  "The EPA was established, we started looking at environmental concerns. I feel bad for people who are hungry or homeless, I don't know why I do, it's just the way I am… They say it's the milieu that you grow up in that makes you, the things that you are in contact with, it's what you see when you walk the street."
After college, Noden worked in a factory for eight years before obtaining her master's degree in education while tending to her children. She then went on to become a Catholic school teacher, where common school campaigns, such as food drives, gave her a glimpse of the wide influence that charitable efforts organized through schools can have.
When Noden left for the public school system, she found a dearth of community learning. Based on conversations with students, she found that students continued to feel disconnected from their communities. This revelation upset Noden, but also made her realize that more nuance was needed to make any lasting impact both on the societal problem and on the students who were participating. Utilizing experiences both inside and outside of the classroom, Noden sought a more complete teaching approach that would not only teach students, but activate them.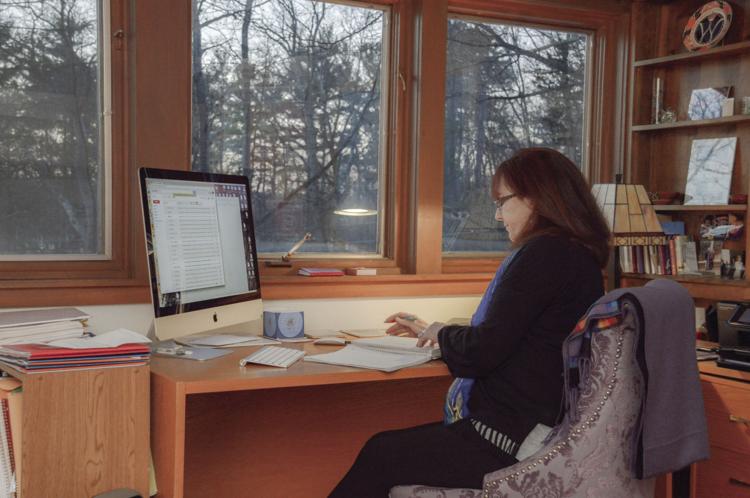 "I didn't want to be this talking head teacher, and I didn't know how to get away from that with the structure of the classroom as I found it," she said. 
So when she moved to teaching at South Seneca School District in 1999, she began developing ways to extend her teaching beyond the routine classroom fare. She was able to get her hands on video conferencing equipment in the early 2000s, which enabled her and her students to open the classroom to the world, interacting with students from all corners of the globe. This ultimately led her to officially found Words Into Deeds, her business based on her learning program designed to create stronger connections between students and their communities, both local and global, with an emphasis on community service projects, after her retirement from teaching in 2015. 
"You don't just give a can of food to the food pantry, if this is your service project you need to learn about food insecurity, what are the causes, you learn about the issue," Noden said. "You become an informed student, and then you decide to do something to mitigate the problem."
The program is under the umbrella of the non-profit organization Global Education Motivators (GEM), where Noden also serves as Director of Human Rights Curriculum. For the first time, Noden is bringing her specialized curriculum to Ithaca during the winter of 2016-2017, for 11th and 12th graders at New Roots Charter School downtown. 
Noden and her teaching programs have garnered a litany of awards in the past several years, including from the Southern Poverty Law Center and the 2011 Global Teacher's Award at the United Nations. She said giving students more ability to choose their path to solutions has proven a more effective way to keep students interested in the entire learning process. Though general topics are sometimes pre-chosen for the projects, students get to choose their focuses and specific aspects they want to address
Noden's vision for Words Into Deeds is to empower youth students to not only learn more about issues affecting their communities daily, but to make themselves part of the solution. The program also includes a trip to the UN Student Leadership Conference in February, where students have the opportunity to talk face-to-face and video-conference with other students from around the world. Noden's previous programs have included raising money for Habitat for Humanity and for clean water accessibility campaigns abroad, among others. 
The choice of substance abuse as the focus of this year's program was not coincidental. Ithaca's drug issues have been a popular topic of conversation this year, particularly in light of Mayor Svante Myrick's headline-grabbing introduction of The Ithaca Plan in February. The city has seen heroin overdoses rise over the past several years, part of a country-wide increase in such incidents.  Myrick's plan intrigued Noden, and helped spur her desire to bring her program to Ithaca schools to build upon a specific focus on engaging more youth voices in the conversation of substance abuse treatment and prevention. 
Noden calls this year's version of the curriculum an informed action project, titled Youth Forum. The goals of the project regarding substance abuse are to increase awareness, encouraging diverse voices to enter the conversation, educate students about risk factors surrounding substance abuse among their peers, and challenge their previously held assumptions about substance abuse.
A large part of that will be accomplished by interaction with area experts and legislators that Noden will bring in to talk to the class, including some that have already visited the students. At the beginning of December, some students met with Myrick to discuss the Ithaca Plan, and have heard from other representatives of places like the Southern Tier AIDS Program, who deal with Ithaca's substance abuse problems on a daily basis. By the end of the program, students will be writing position papers, giving presentations, organizing projects, or something similar.
Noden said the students' views on the topic are already maturing beyond what they were initially. Part of this is the influence of the experts, she said, but it is also a result of students thinking more critically about the issue. 
"Their opinions are transforming to be more fact-based already," Noden said. "They're becoming more serious… And that's just after one week. It's been a nice warm-up for them."
Though she struggled at first to attract interest from area schools, she found a host in New Roots. Sue Schwartz, an English teacher at the school, is helping Noden with the classroom program at the charter school along with fellow teacher Kerry DeLisa. Schwartz has been familiar with Noden for years, after serving as a student-teacher in Noden's classroom years ago at South Seneca. 
Schwartz said that like Noden, she is very interested in constructing academic work that allows students to affect the community in their own way. The topic of substance abuse also allows students to grapple with a problem that is not just a headline on the news, but something they see in their communities and neighborhoods, even on their way to school, Schwartz said.
"I think because of our proximity, there's a higher likelihood that students could run into somebody here because we are in downtown Ithaca," Schwartz said. "It's something that affects our community, we used to go to Dewitt Park quite a bit, but we don't go there anymore. It's a little bit like the elephant in the room."
She said the youthful voice, particularly at the age in late high school when students can be vulnerable to start using drugs, can offer a necessary variety of perspectives that differ from those of the older generation. With the city's substance issues in mind, Schwartz said the tangible impact of drugs is something many students have experience with, be it from their families or friends or neighborhoods, and can speak knowledgeably from that experience
"What students should be learning shouldn't be abstract, it should be applied," Schwartz said. "One of the founding principles of our school is to use the community as a textbook, more community based learning and project-based learning […] Students learn better when they are having to deal with real-world problems."
Noden hopes Words Into Deeds will take hold in Ithaca, especially because it is so close to her home, but said she views every project as an opportunity to expand problem-solving beyond the immediate community. Though students may enter believing that this is an Ithaca-specific project, Noden said one of the goals is for students to start thinking about the problems around the world that may affect others in a similar way as substance abuse affects them. Though Ithaca is the setting, it should not be a limiting factor.
"I see them all equally, I have a strong belief that things are interdependent in our world," she said. "The project's participants thought this was going to be a strictly local conversation, but I know it's not. My job is to facilitate that, to let them listen and hear and think, then they take it where they want."