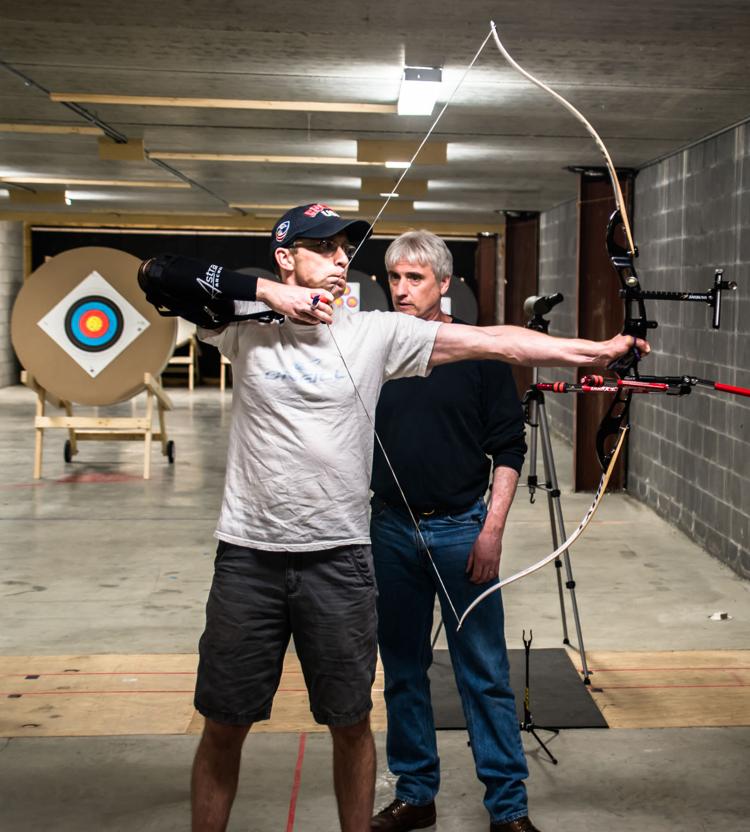 On an overcast Sunday in early June, a father and son arrive for private lessons at Ithaca Archery, an indoor training "academy" founded earlier this year by Charles Rendleman, an easy-going Virginian with some serious bona fides.
Rendleman is a certified USA Archery Level 4 National Training System (NTS) coach; if that title is off-putting to the uninitiated, the man himself is anything but. His style is commanding yet elegant; having watched him coach several students, it is clear Rendleman is very much in his element. (A nationally ranked archer, he quit the competitive circuit to do just this: Teach).
Ithaca Archery opened in January at the Community Recreation Center in Lansing, also called The Rink. The 100-foot range is located adjacent to center's indoor soccer fields. A window permits a peek into the inner sanctum; a somewhat rough-hewn interior that looks a little like an old-school dojo. Hanging in the window is an example of a "Robin Hood" – an arrow shot dead-center in another. It's fairly rare feat and those are Rendleman's arrows you see.
The range is currently reserved for private lessons only – with plenty of room to grow, and, with the center's backing, Rendleman intends to put Ithaca Archery on the map of go-to archery schools.  
Summer Archery Classes for kids aged 10-16 are on offer and run from July to August.
"Charles was a good fit for our facility," says Russell Johnson, Lansing center director. "We like his community-oriented approach and were impressed with his knowledge of the sport – and, adding archery to our traditional sports programs is a plus for all our athletes."
Rendleman concurs.
"My coaching is strongly focused on teaching 'mindset' – the connection of the archer's thought to the movement of the body," he says. "It's critical that the archer is mentally focused on every aspect of his-her movement – from setting their stance to follow-through. Those are transferrable skills for baseball and hockey players as well."
Not to mention golfers, surprisingly. "Archery and golf are both dynamic-motion sports," says Rendleman. "There are parallels in terms of form with function."
Rendleman's pedigree makes him a rare bird in an area populated with dozens of top-notch outdoor archers and hunters who are no strangers to the wiles of the bow. A newcomer to Central New York (he moved here with his family in 2015), he searched for almost two years to find a space or even build one where he could pursue and share his passion.
"I finally lucked-out with the rec center," he says. "I mean, they created an archery range that wasn't here before."
Rendleman's specialty is target archery as defined by the NTS, an approach developed by Kisik Lee, former head coach of the almost unbeatable Korean Olympic archery team and current National Head Coach of the US Olympic Archery Training Program. Rendleman routinely attends NTS training events and received his certificate from Lee.
NTS is a trademark process Lee developed that is based on human biomechanics. Teaching it requires an ability to convey with language and hands-on instruction, the necessary anatomical alignment and stability – not to mention mental focus – needed to excel at the sport.
That's a whole other level and Rendleman can walk the talk. But he's interested in teaching anyone curious about the sport.
Foot traffic at The Rink has piqued interest among parents and youngsters and the father and son mentioned above signed-up after a quick look-see. That's a good sign, but Rendleman also hopes to attract people outside the center and beyond. People like Joseph Husband, a Candor resident and an engineer at Lockheed Martin Sikorsky, in Owego. A talented archer, Husband is working with Rendleman on ways to work-through his scoliosis, a condition that causes sideways curvature of the spine. Searching for someone with enough experience to help him improve, Husband was amazed to find Ithaca Archery online – and so close-by, he says.
"To work with somebody at Charles's level, I'd have to drive to New York City or Philadelphia or further," says Husband, who commutes from Candor for lessons. "Ithaca doesn't know how lucky it is to have a coach like him here. Not yet anyway."
That is changing, albeit slowly.
During his Sunday lesson, Rendleman is focused on the father and son mentioned above. Watching him coach, it's surprising to learn that Rendleman was introduced to archery only a decade ago – as a father taking his kid to archery class.
"I enrolled my son Clark with The Archery Program run by Olympian Ruth Rowe (in Virginia)," says Rendleman. "At first, I just watched Ruth work with Clark (then 10 and the older of his two sons), but I got curious and started taking lessons as well."
He was a quick study, says Rowe, now 70, who introduced Rendleman to the National Training System.
"Charles was a terrific student," she says. "He also had the (four) characteristics I look for in a potential instructor."
Those are, according to Rowe: Knowledge of material; the ability to study a person and understand what works and what needs work; an ability to communicate and to listen – "not only to what is said but how it is said – by both student and coach." And, lastly, Rowe says: "The ability to inspire."
Rendleman says archery reminded him of the martial arts he practiced in the 1990s. It also fed his natural hunger for mastering the details of a time-honored discipline – one that dovetails nicely with his lifelong interest in philosophy, the fine arts and mastery of the body and mind. Rendleman, 54,  holds a BA in philosophy from the College of William and Mary; and a BFA in Interior Design from Virginia Commonwealth University; he later jumped from managing restaurants to running his own custom furniture-making business.
But it was in Rowe's Archery Program that Rendleman discovered his calling. His son became a state-ranked archer in his age group. And within a year, Rendleman was coaching at Rowe's school.
Skill and talent – as well as timing – played a part in Rendleman's success with the sport. By 2012, interest in archery was booming, thanks to the Internet and movies like The Hunger Games and even Brave and Hawkeye.  
Rendleman provides his own equipment at Ithaca Archery, including a dozen "teaching bows," and he put a lot of work into fashioning the range. He built two bow racks, arrow holders, as well as six portable target stands – each mounted with a hefty 52-inch round rubber backstop. Says Rendleman: "I assembled all 12 bows and put fletching and points on twelve dozen arrows of varying lengths (that's 144 arrows)."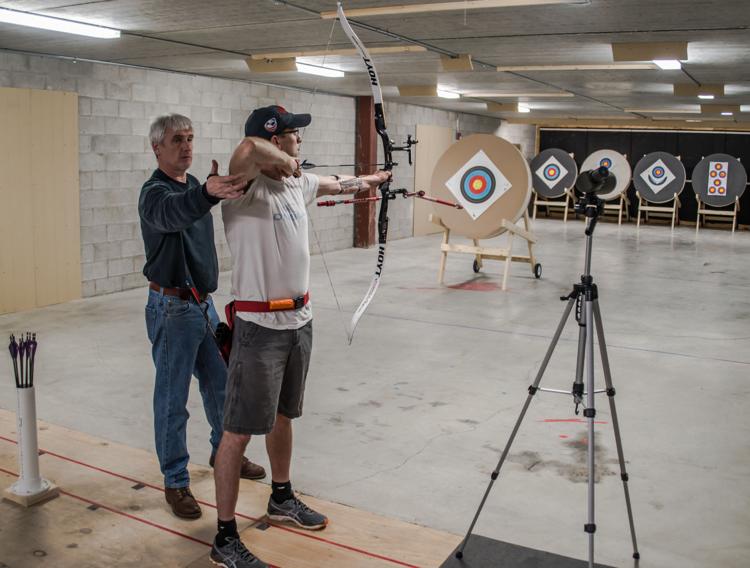 Back on the range with his Sunday students, father and son experience differing challenges. Rendleman doesn't tell them what to do, but asks what they thinks is going on with this or that piece of the practice. They discuss, align, adjust and move on. The father's very next shot sinks closer to target central.
At 14, the son is more relaxed, but tends to dally between shots.
"Are we just flinging arrows or are we training?"  Rendleman asks, with a wry smile. The boy shrugs.
"How long can person hold concentration?" the coach asks, rhetorically. They've covered this one before.
"Three seconds."
"Okay, so if you're standing at the line and ten seconds goes by –"
"I've lost focus."
"Or you've re-focused three times, which is exhausting, right? Okay. Let's shoot."
Together they run through another shot sequence – which can involve 12 distinct steps that flow from one to the next – a lot of information to process. Rendleman conflates the sequence for his new students, calls out each step and makes micro-adjustments to form, relaxing a shoulder here, or raising an elbow there.
By lesson's end, father and son are shooting more accurately. And they will be back – good news for a new business.
During his training with Rowe, Rendleman developed a series of classes he now calls "Learning to Shoot" that help students quickly learn the basics of archery and the NTS method. When he moved to Ithaca, Rendleman brought those lessons with him.
And now, the teacher is ready for the students to come.