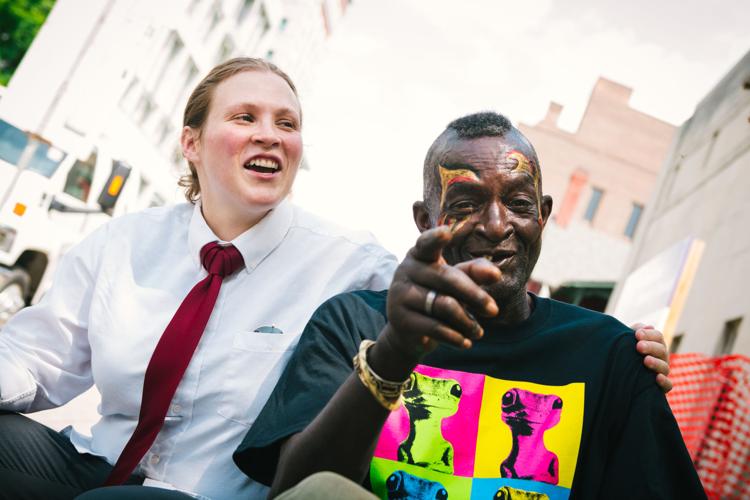 To most members of the political establishment here in New York's 58th State Senate District, the name Amanda Kirchgessner – right now, at least – might not mean much. But on the streets of Ithaca, a place her family has lived in and around for generations now, Kirchgessner is a somebody.
A dominating presence, Kirchgessner – a Ulysses resident and Enfield native – has a sort of magnetism about her, a charisma honed through years of diner chatter at her waitressing job on State Street, her volunteerism and a lifelong devotion to community that shines evident with every interaction. On Friday afternoon, when she came to visit with The Ithaca Times to promote her candidacy for State Senate this September, she was immediately stopped by local handyman/do-it-all type Eric Lovett, who grabbed her by the shoulders and beamed through a layer of facepaint while offering what, to our ears, was a formal endorsement of her campaign.
"She's a good person," Lovett said.
Her young campaign just – officially – turning a few weeks old this week, endorsements like Lovett's are the type Kirchgessner has sought out most. Where traditional campaigns often tout endorsements from pre-established community leaders – elected and appointed party officials, local luminaries and newspaper editorial boards – Kirchgessner, on social media, has solely touted the endorsements of folks cut from a different cloth. Her first came from a 95-year-old regular at the State Diner (where she works) who, according to a Facebook post, is a lifelong Republican. (Kirchgessner will be running as a Democrat.) The next came from a woman at an ice cream shop in Corning, who works two jobs, and Adam Levine, a former livery driver both of which accompany more recent endorsements by a local teacher's union member and a living wage certified small business owner. They like her platform, which includes a conscious push for livable wages, increased efforts toward affordable and public housing, support for a long-stalled universal health care plan at the state level, and they certainly like her as a person. But, as a political newcomer with modest experience seeking office against a deft and formidable Republican incumbent – Tom O'Mara – who defeated a talented Democratic opponent by nearly double digits in the 2016 election, one may find themselves wondering: Why the New York State Senate?
"I've been an activist a few years, and I've been a volunteer my whole life," Kirchgessner said. "If there's a need, somebody's got to do it. I'm trying to remember if it was in late-January, early-February, I was at the Democratic Committee meeting in Ulysses, and one of the members commented how Leslie Danks Burke wasn't going to run this year, and they suggested I should run. Which is funny, because the people I work with at the diner have been telling me to run for office since the 2016 election cycle."
"And the people who I'd be running against for local office… I like them," she added later. "I think they're doing a decent job representing our community. I saw a need, and I decided to run with it."
While raw as a candidate, Kirchgessner has a demeanor chiseled by diner conversations, food pantry lines, and park bench heart-to-hearts. Her anecdotes focus on the working class among the community – the split shift life of the local bus drivers, the thankless work of a dishwasher in the back of the house, sweating over a hot sink for minimum wage as the plates keep coming – and her desire to get in a position where she can offer something better.
"Those are the people who need representation," she said. "We all need it, but it's the people who have no voice who really need it."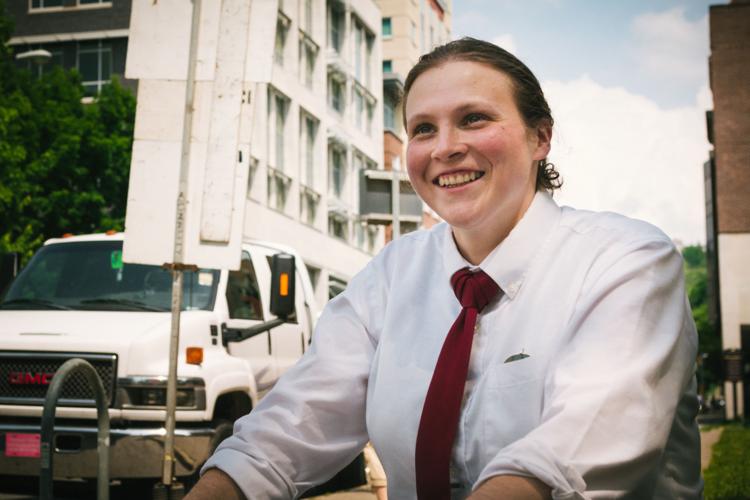 Her platform reflects that ethic: her father dying at the age of 13, she's sold on the virtues of programs like social security, and their importance in saving families who may otherwise find themselves on the brink. She – like numerous progressives across the state – supports the New York Health Act, which she sees as a way to stoke economic development, offset unfunded mandates on county tax rolls, and provide good, simple to understand healthcare for all. An activist who has spoken out against what she sees as a rapid gentrification of Ithaca, she wants to reverse the trend of spending public money against the interests of the working class, seeking out mechanisms to help counties and municipalities invest in public housing, the funding of which has traditionally been administered by the federal Department of Housing and Urban Development and allocated through the state.
By doing this, Kirchgessner said she wants housing funds put into the hands of people in poverty in order to help them build equity and receive a pathway out of their predicament, rather than being trapped in a hole they otherwise, have no support in leaving.
"Helping to build local housing for local people, I think, is exactly the type of stuff the state should be doing – providing the money and greasing the gears," she said.
To be an effective legislator, even while lacking experience, is all about communication.
"Everybody I call, once elected, is going to be thrilled to have their state senator call them," she said. "I feel I could call up Seph Murtagh (Ithaca Common Council) and ask 'hey, is this vote going to help you or hinder you?' I could call up folks at INHS (Ithaca Neighborhood Housing Services) and ask if it will benefit their ability to do what our community desperately needs. I want to know what people here think of all these programs."
Most importantly, she said, Kirchgessner represents a perspective few others serving on the attorney-heavy State Senate can offer – one of an actual member of the working class those politicians look to for guidance in campaign season but may otherwise avoid.
"I may volunteer at the food pantry, but I also take food home from it, because I need it" she said. "I'm trying to run for an office to actually represent the people who live here, the people who are struggling, the people who have been left behind."
The key to her early support might be a result of her disarming disposition – a relatable front that seems less forced than more formal campaigns run in New York's 58th District, a map of which serves as the background image on her phone. It helps she has a good conversation starter, something she pulls out any time the opportunity presents itself: "Hey, are you registered to vote?"
If she makes the ballot, she will likely face a primary, facing down Chemung County Legislator Michael Lausell. (On the other side, O'Mara will potentially be facing a primary against Republican Susan Beckley). She knows she's a long shot, but believes, given her background and frame of mind, she stands a fighting chance to attract a coalition of supporters that defies party lines in the interest of real, dramatic change.
"A lot of people have compared this race to David and Goliath," she said. "But remember; David was an archer. He knew exactly what he was doing."
Learn more about the campaign at facebook.com/Amanda4NY.